Fernweh, in German, means something like being nostalgic of distant places and remote experiences.
Food is for me something I go for if I want to reminisce about past travels and, in general, good memories.
A couple of days ago I felt nostalgic of Japan, but instead of going for sushi (which is becoming more and more an international dish and I hardly associate with Japan anymore), I decided to go for a nice bowl of Ramen.
Though Vienna is very international when it comes to food, there is still a huge market opportunity for Ramen restaurants in the Austrian capital city.
Shoyu is one of the few pioneers to be found, and we went there to see if their Ramen could refresh our good memories of Japan.
Franco welcomed us warmly and showed us the menu. Introduction to traditional Japanese cuisine 101.
We ordered a Shoyu Classic (Soy sauce Ramen with Cha Shu pork, egg, moyashi & spring onions) and a Miso Ramen (miso Ramen with minced meat, cha Shu pork, egg & spring onions), accompanied by a nice and warm Genmai Cha (made with roasted green tea leaves and roasted rice).
In the meantime, we scoured the restaurant and we found Japanese comic books (Slam Dunk, rings any bell?), Geta, (wooden soled shoes), and golden cats.
After a couple of minutes, our beautiful Ramen landed on our tables and damn they looked good! A big, full and smoky bowl was in front of us, wooden spoon on the right, chopsticks on the left. Set, ready, go!
The soup was superb, and so was the rest. Franco told us that the noodle is homemade, and you can easily notice it by its texture and flavor (and from the cook who came out from the kitchen with flour on his hands and cheeks). Delicate yet savory, light yet satisfying, Shoyu Ramen did a very good job and made us feel a little closer to Japan.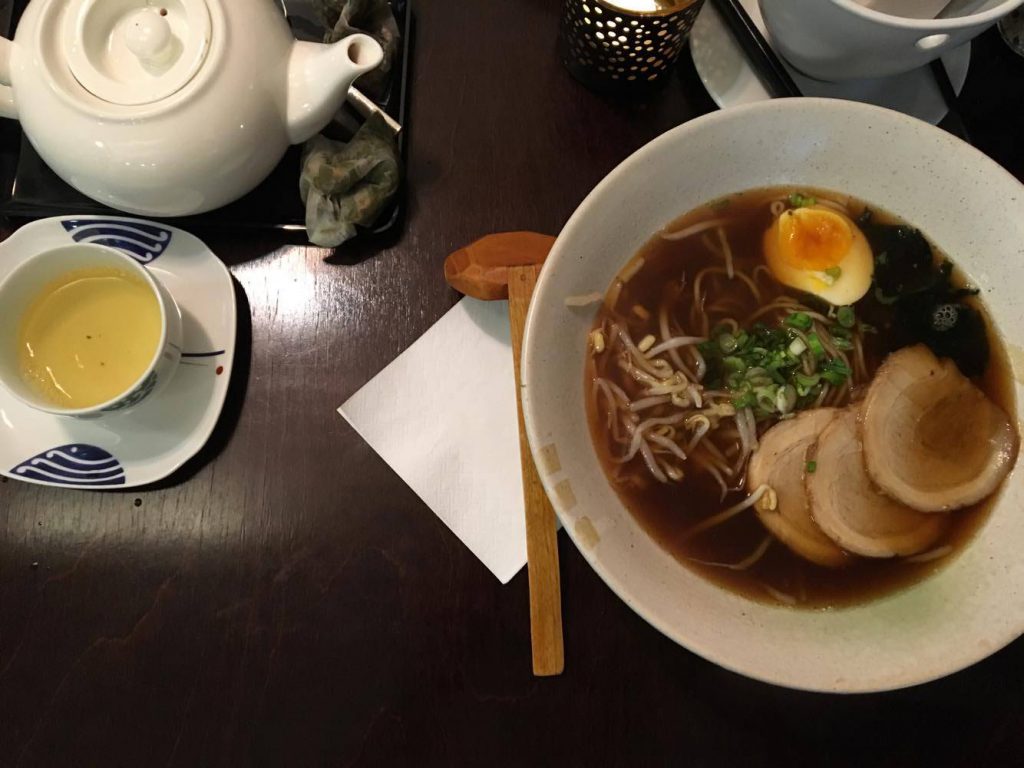 The price is also very competitive, since for the bowl we got we paid less than 10€ (you can get the big one for 13,90€ – here's the link to their menu though).
Located right in the city center, it's easily reachable from everywhere you are. Very near there's also Stadtpark, a nice and big park where you can have a walk after devouring your Ramen and enjoying the stillness of the city.
Anyway, thumbs up for Shoyu!