Sister Bean – Lunch in Mechelen – Belgium
This petite restaurant is close to the vismarkt, which used to be a fish market where merchants traded the catch of the day. Nowadays the place is full of restaurants, bars and cafes. Sister Bean offers an arrangement of breakfast and lunch options for the hungry people searching for their lunch in Mechelen. Designed with care and a lot of natural material the interior reflects the food. Some the interior looks like a friends living room with an attached kitchen.
Upstairs seating options also provide bigger groups a place to hang out. I started out with an almond milk cappuccino and found out that I don't like almond milk something my friend is obsessed with. A quick change to a classic cappuccino was a much better choice for me.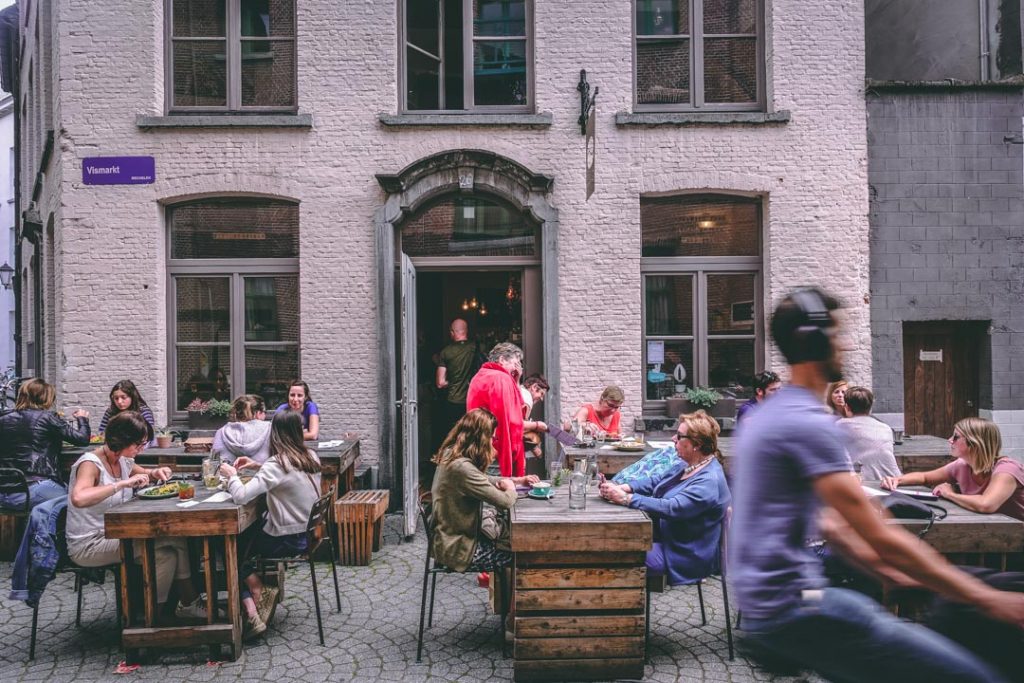 As I was there for lunch in Mechelen I started out with a refreshing homemade mint and lemon iced tea and an organic zucchini mint soup (soup of the day). For the main course we ordered salmon empanadas and smoked salmon quiche both came with a crunchy side salad and pickled cabbage. All dishes were very good and the menu should have something for everyone. Sister Bean was the perfect stopover during my sightseeing tour through the beautiful town of Mechelen. With a lot of organic and vegan options it also caters to the ever growing population of veggies and vegans.
Afterward the journey continued with a smile and a full tummy.
Bon Appetit.
If you wanna know what to do in Mechelen check out my review.
Side Joke:
Like many other restaurants and cafes Sister Bean also features paintings that you can buy off the wall. I always thought that as a hilarious combination of "art" and food.
"Hi waiter yes I have 700 euros burning a hole in my pocket can you take down that picture so I can take it straight home. No leave the dust on it!"
Side Perk: Wi-Fi Access
Sister Bean – Lunch in Mechelen
Vismarkt 26, 2800 Mechelen, Belgium
www.sisterbean.be
Thanks for reading " Sister Bean" we are happy you found us and would appreciate your support with a follow on instagram (www.instagram.com/vanguardvoyager)