As we say in our tagline, we haven't been everywhere… We've seen enough, however, to have developed an appetite for discovery, adventure, awe and inspiration. While Vanguard Voyagers often travel to cities to find the best food and hotels around we love to discover those far away places that prove that mother nature never ceases to amaze.  We've selected our current Top 10 mind-blowing destinations, stay tuned for more discoveries to come.
1. Flores – Indonesia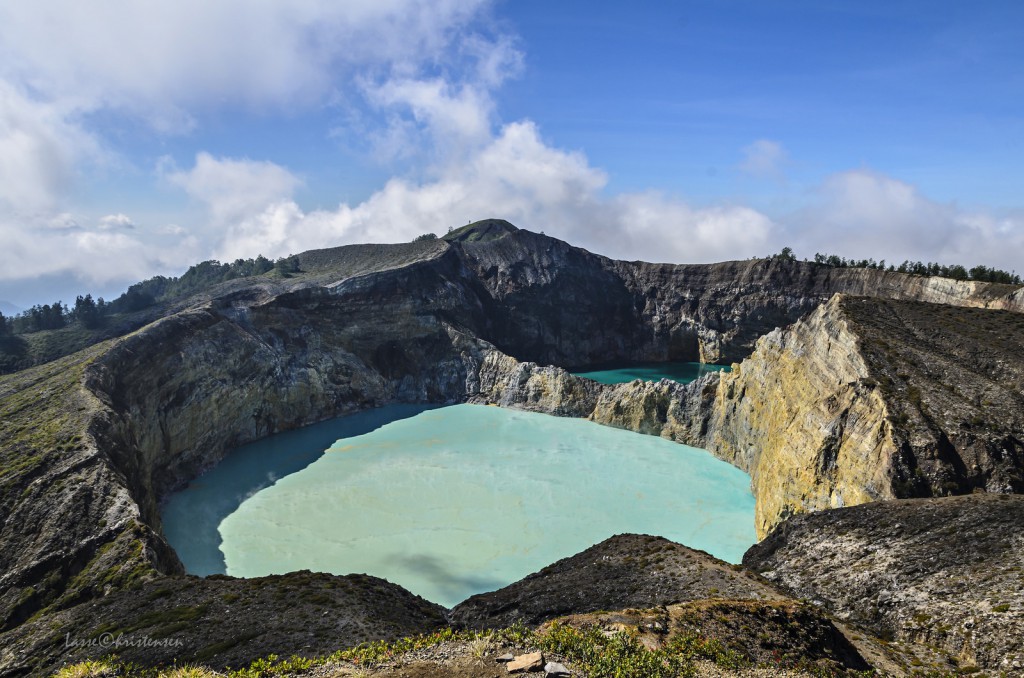 As a general rule indonesia is a ridiculously beautiful country and a surfer's paradise. But there is much more besides Bali. Jump on a plane  from Denpasar to Ende Flores where you'll find Kelimutu. This volcano is close to the small town of Moni in central Flores island in Indonesia. It contains three striking summit crater lakes blue, green and red and also named Lake of Old People (which is kind of offensive) Lake of Young Men and Maidens (that's where the party is) and Bewitched or Enchanted Lake (I have no joke for this one).
2. Glowworms Cave – Waitomo – New Zealand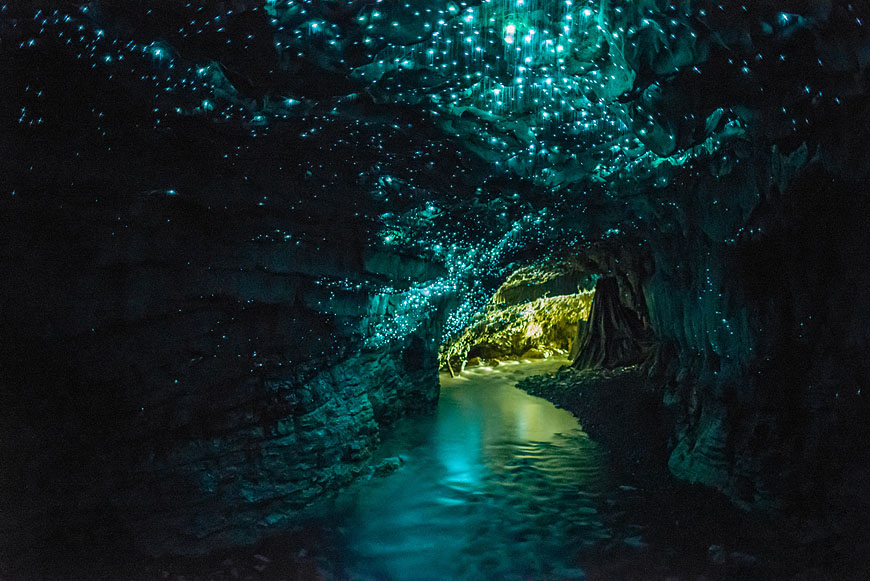 The glowworm Arachnocampa luminosa living in this cave system two hours south of Auckland is a species found exclusively in New Zealand. They are around the size of an average mosquito. Eery and mesmerizing, the experience is aid to be like looking at the night sky underground.
3. Positano, Italy
In our opinion, this picturesque village on the Amalfi Coast is where romance was born. We feel that if Sophia Loren loved it, how could one go wrong.
4. Hitachi Seaside, Hitachinaka – Japan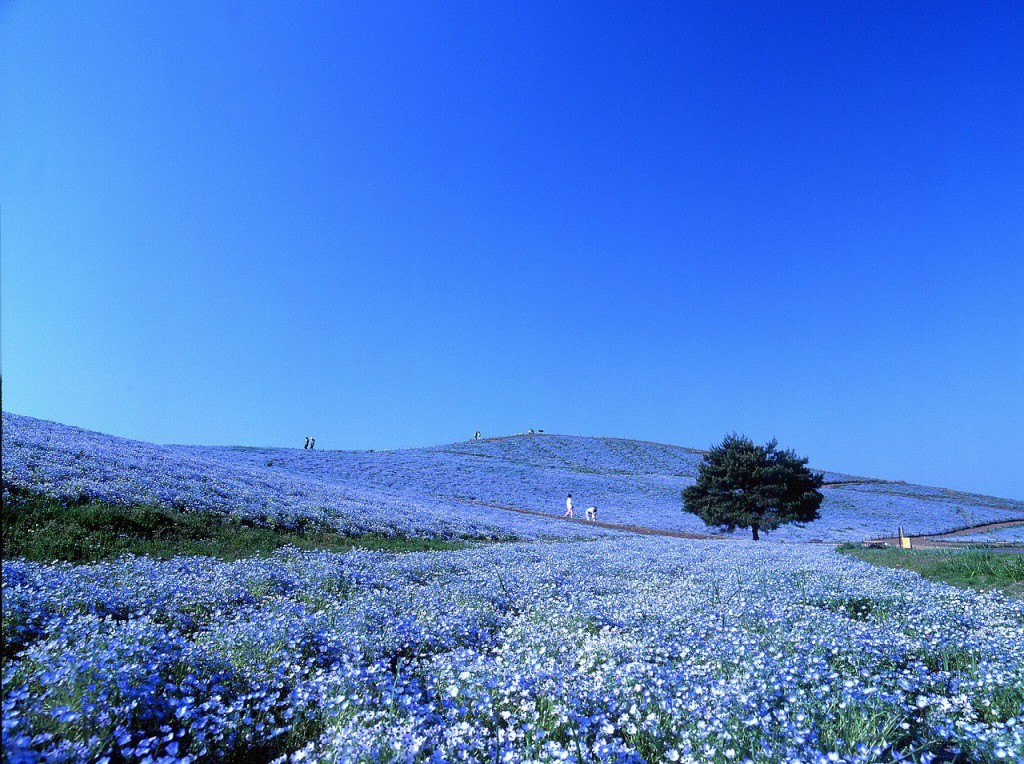 This park is filled with an endless sea of rolling hills and colorful, vibrant flowers, the most famous being the Nemophilia. Thousands of visitors come to the park, during "The Harmony of Nemophilia", to see these gorgeous translucent blue and white flowers in bloom. Almost five million of these flowers are planted to create an amazing ocean of flowers.
5. Hogwarts, Universal Studios – Florida – USA
We realize its fake, and yes, Harry Potter….but look at this! It's such an unbelievable place. You have to take your hat off to the designers, cause we've never been anywhere that came this close to feeling like you're in the movie. Let's see what Avatar Land has to offer (opening 2016-2107).
6. Antelope Canyon – Arizona, USA
Antelope Canyon was formed by erosion of Navajo Sandstone, primarily due to flash flooding and secondarily due to other subaerial processes. Rainwater, especially during monsoon season, runs into the extensive basin above the slot canyon sections, picking up speed and sand as it rushes into the narrow passageways. Over time the passageways eroded more and more, making the corridors deeper and smoothing hard edges in such a way as to form characteristic 'flowing' shapes in the rock. We can't wait to see these breathtaking formations in person.
7. Iguacu Falls – Brazil, Argentina, Paraguay
This world heritage site on the so-called tri-border between Brazil, Paraguay and Argentina is a gargantuan example of the forces of nature in action. Upon seeing Iguacu for the first time, First Lady Eleanor Roosevelt reportedly exclaimed "Poor Niagara!"
8. Macchu Picchu – Peru
Located 2430 meters above sea level this Incan village is believed to be the estate of Inca emperor Pachacuti. Although many of the stones that were used to build the city were more than 50 pounds, it is believed that no wheels were used to transport these rocks up the mountain. The story goes that hundreds of men pushed the heavy rocks up the steep mountain side. The Incas were some of the best masons in the world. The structures were so well-built with a technique called ashlar (stones that are cut to fit together without mortar) that not even a knife blade can fit between them. Don't belive us? Go there, bring a knife :). Just kidding – NO TOUCHING THE STONES!
9. Dead Vlei, Namib Desert – Namibia
A white clay pan located near the more famous salt pan of Sossusvlei, inside the Namib-Naukluft Park in Namibia. Also written DeadVlei or Dead Vlei, its name means "dead marsh" it is surrounded by the largest sand dunes in the world, the highest reaching 300-400 meters and named "Big Daddy" or "Crazy Dune". Once a valley with an abundance of water, which allowed the camel thorn trees to grow it is now dried up and all the trees have died. The remaining "tree skeletons", which are believed to be about 900 years old, are black because the intense sun has scorched them.Though not petrified, the wood doesn't decompose because it is so dry with barely any wind or rain; a moment frozen in time.
Fun fact: They shot scenes of the movie The Cell with Jennifer Lopez here…just in case it looked familiar.
We stayed at Little Kulala while in the area.
10. Hiller Lake, West Australia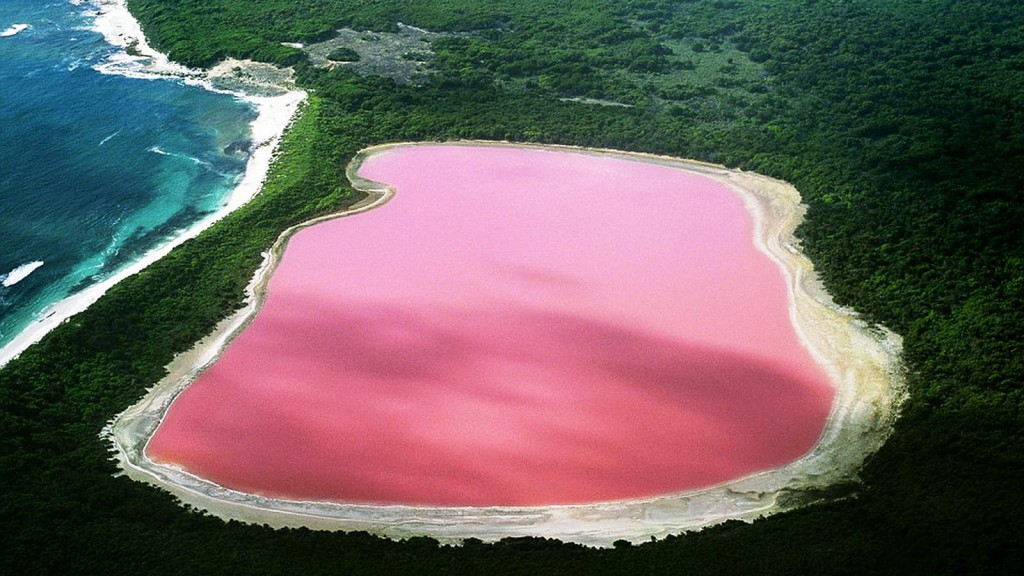 This brilliant Pepto-Bismol colored lake – we would rather call it Strawberry Quick colored – is located on the edge of Recherche Archipelago's largest island, in Australia. The earliest records mentioning the existence of Lake Hillier date back to 1802 and to this day the lake has been pretty much untouched by humans. Its unique color is still a mystery. It is believed that it might be created by the organisms living in the lake – Dunaliella salina and Halobacteria. Another speculation is that the pink color might be  attributed to the presence of red halophilic bacteria in the salt crusts. Whatever the reason, it looks sick.