Some people dare say that this is the real Italian capital, not much for its history and culture (I´d be surprised if someone told me that Milan surpasses Rome in this regard), but rather for its buzz and energy.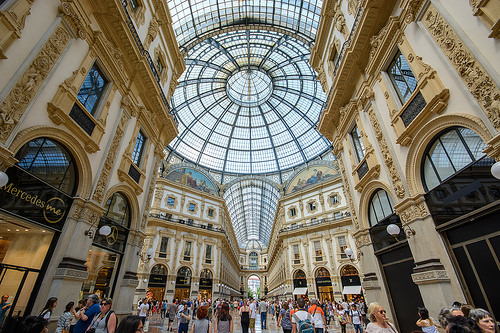 This is also the city where many Italian traditions popped up. One of them, you might ask? Well, the Italian Aperitivo. Campari is the city´s mayor! No matter where you go, you will also find some variations worth trying (I suggest leaving your car keys at home…). Fear not, I´ll be telling you more about that in a sip…ehm in a bit.
Food
If food is an important parameter to decide where to go, you might have found your next city to visit. Well to be honest, this generally applies to the entire country, but in Milan you can find a mixture of Italian and international cuisine as well.
What I personally recommend, when it comes to food in Milan, is to ask people living there for some advice. Not because Google is wrong, but because Milanese are good at eating and know their way through the city. Anyway, I happen to have some tips for you, my dear food lover.
Let´s start with ice-cream, which could be the best nibble before the big feast. In Milan, gelaterias can be found everywhere. All of them are good, most of them are really good, few of them are amazing, Only one of them is superb. Besides the super cool name, La Gelateria della Musica has the tastiest gelato in town. My piece of advice: take the Pistacchio salato, which is salty pistachio. Just don´t judge it by the name,  because I know you are!
Next: pizza. You already knew this was coming…Let's start with Pizza AM:  what this restaurant does not have in décor, it definitely makes up for its delicious and colorful pizzas as well as its funny staff. It's always kinda full so reserve a table. However, if there are tons of people and the waiters see your hands empty, they'll bring you some slices of pizza and a glass of champagne…so make sure you have your hands free!
Anyway, Milan proliferates with great Pizzerias, so don't panic if you can't make it to Pizza AM – you can always hit Pizzeria Versace or Piz. Top notch !
Aperitivo & Cocktails
I keep my promises, so let's talk about the Aperitivo in Milan. To dive into the typical aperitivo atmosphere the right way, start looking for something at around 18.30, when the sun goes down and the stars come out. I personally recommend Fonderie Milanesi or Fioraio Bianchi. The first is an old foundry set in the middle of Porta Romana and Porta Genova, the other a mix between a bar and a flowery. And while the first is made out of bricks, chimneys and bikes hanging down from the ceiling, the other has a sort of Parisian style with crumbled stucco on the walls. Both, however, offer kick-ass drinks (Don't forget that Campari is the king when it comes to all this, remember to pay your respects). Food is also good, but a couple of steps behind the drinks. Let's not be too pretentious, guys.
Let's move on to cocktails, okay? Okay. People in Milan are used to saying that it doesn't make much sense to visit Milan without visiting the Duomo, the Galleria, Leonardo da Vinci's "the last supper" and the bar Nottingham Forest, which is one of the top 50 bars in the entire freaking world. Molecular Mixology is the philosophy behind its success, led by the boss Dario Comini, described by many as the Milanese alchemist. Beware, he doesn't turn cocktails into gold (duh), but rather solids into liquids and liquids into solids, with a sprinkle of golden dust on top. All this magic happening in an exotic scenario inspired by African, Asian and Pacific islands style. A bizarre oasis in the middle of Milan, hands down.
Should you feel like something more traditional, Camparino is the what you're looking for, both for Apritivo and Cocktails. Based in the Galleria Vittorio Emanuele II, it's been serving Campari since 1915. Campari Americano? Negroni or Campari on the Rocks? Campari Seltz! No wait, Campari Shakerato. Alright Campari Orange! Or Negroni Sbagliato? That's probably how you will spend your first 20 minutes in there. My suggestion? Start with a Negroni Sbagliato, everything will be much easier after that. Camparino is an institution in Milan, something that definitely shouldn't be missed out on!
Arts
To the readers looking for an artistic immersion, Milan might enter your top 10 artistic city list (if you have one, if you don't, you should). This city has been crawling with cool stuff since the Middle Ages, showing that it's not very far from the Italian podium (Rome, Florence, and Venice). Starting from La Basilica di Santa Maria delle Grazie, where you can admire Leonardo da Vinci's masterpiece "The Last Supper", you can then get to different museums and galleries. Drop in the Brera Pinacoteca if you want to linger with Caravaggio, Bellini, Hayez and Boccioni. If you are more of a modern type of person, don't freak out, you can have fun too: Museo del Novecento and Gallery of Modern Art, for example, are there waiting for you.
Something that I also suggest doing is to willingly get lost: airplane mode on and just walk. You'll come across fantastic squares, small streets where grandmas share cooking recipes and their husbands argue about football and politics. This is also art!
Verdict: Milan is definitely a 360° city worth seeing and seeing again. There's so much left to tell though: architecture, design, fashion, more food, more drinks….but I will conclude with this pearl: in Milan you can actually adopt the gargoyles standing on the Dom. I mean, how cool is that?