We have to admit it: right after booking our flights to the Rumanian capital, we scoured the internet to find out what the city had to offer and were a little disappointed by what we read and saw – neutral reviews, not-so-stunning photos, no food articles..So we weren't that excited when we were about to take off (the 2 hours delay did not help either..).
But voyagers, Bucharest rocks!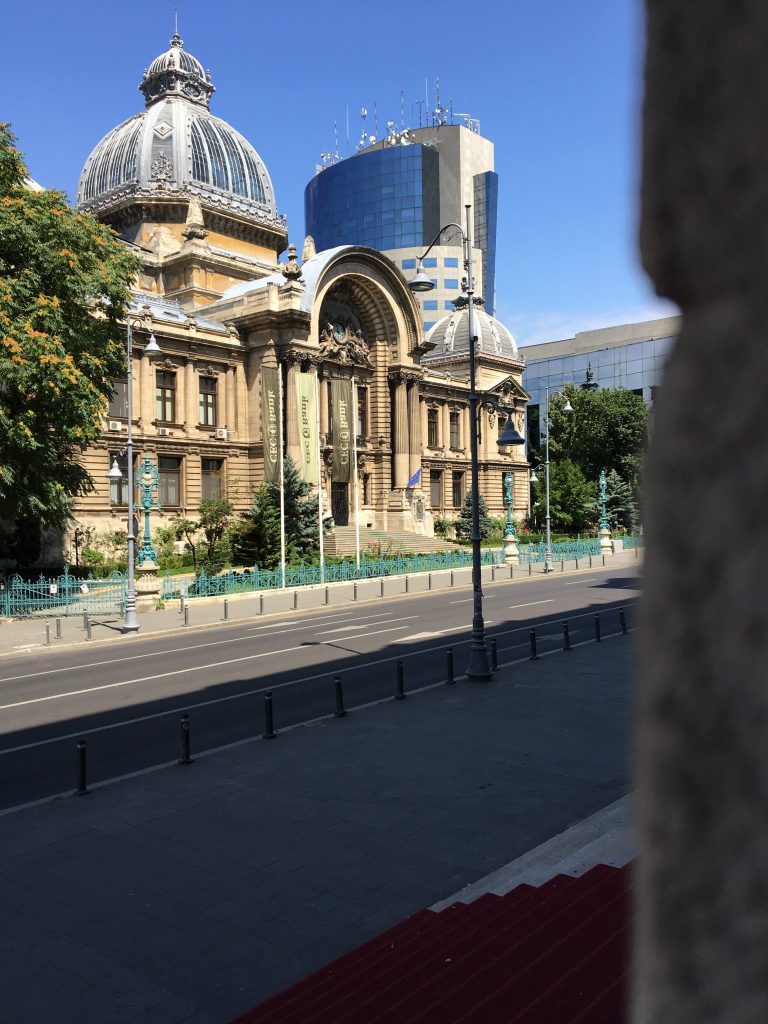 Culture, architecture, entertainment, people, food – just wow! But let's start from the beginning.
Once we landed in the Bucharest airport, we headed to take a taxi since it was already midnight. And here's our first tip: don't get in the first taxi you see: they are, most of the times, more expensive than the others which are actually across the street (Pelicanul taxi, for example, are among the cheapest taxis in town but nevertheless nice and comfy). Since we are here, we give you a second tip: go for Airbnb when it comes to accommodation – Price/quality ratio in Bucharest is great! You get to live in the city center, in a top apartment (maybe with jacuzzi, like ours..) for even less than nice hotels. After leaving our bags and contemplating the panorama from our balcony, we walked to the city center for a quick night tour.
And there you have the first surprise – streets in the Old Town area are teemed with all kind of people enjoying the night life, and this makes you want to join them right away! You can jump from a bar to the next club in no time – doing the famous "pub-crawl" here is just amazing. In case you'll get hungry – and trust us, you will – the area is also full with street food restaurants at a very good price.
The next morning we walked again to the Old Town, and it's awesome to see it empty, and to be able to admire the buildings around the small alleys that in the night host so many people. You really understand why it's called the small Paris! Near the majestic buildings and nice and tiny cafes, orthodox churches  hide themselves at the corners of small streets under some giant chestnut trees. Make sure you enter them all, because they are all worth it! Most of them date from 17th century on and mix different artistic elements like Byzantine, Turkish, Greek and even Renaissance. Their colors and scent left us speechless!
We then took a walk all the way to the parliament, which is the largest administrative building in the entire world. On our way there, however, we came across some decadent yet astounding buildings, whose rooftops were just insane. We tried in a very awkward way to get up there but we managed just once, and we won't tell you exactly how we did it. But one thing is for sure: you can't miss out on Bucharest's rooftops. The view from up there is impressive!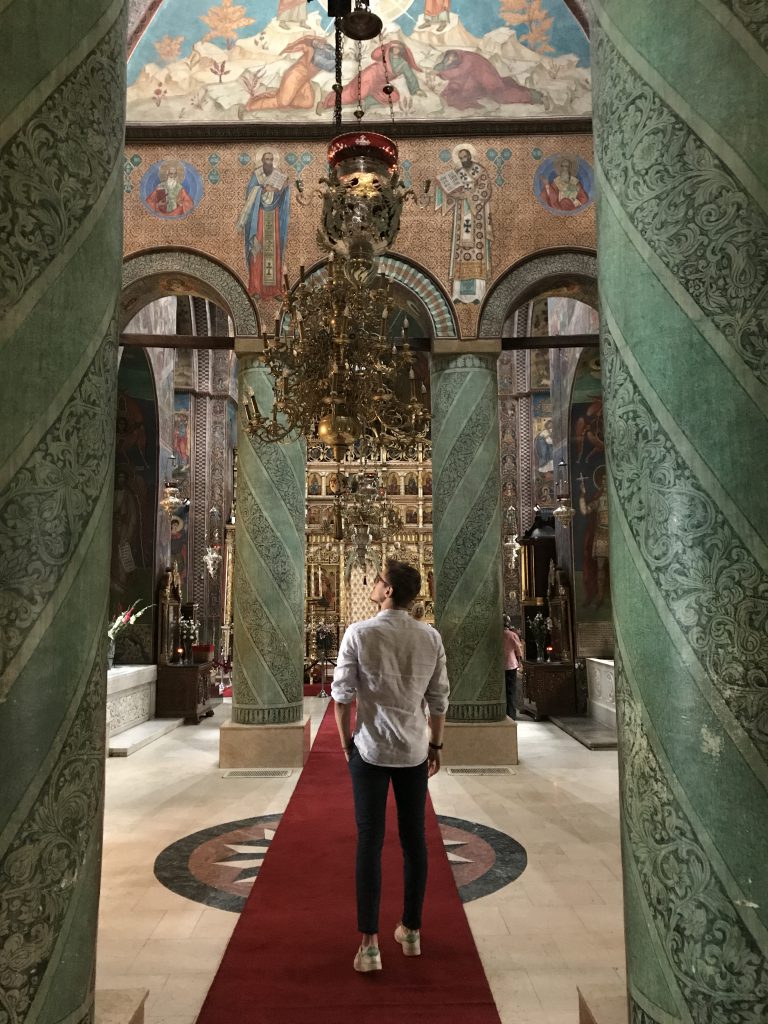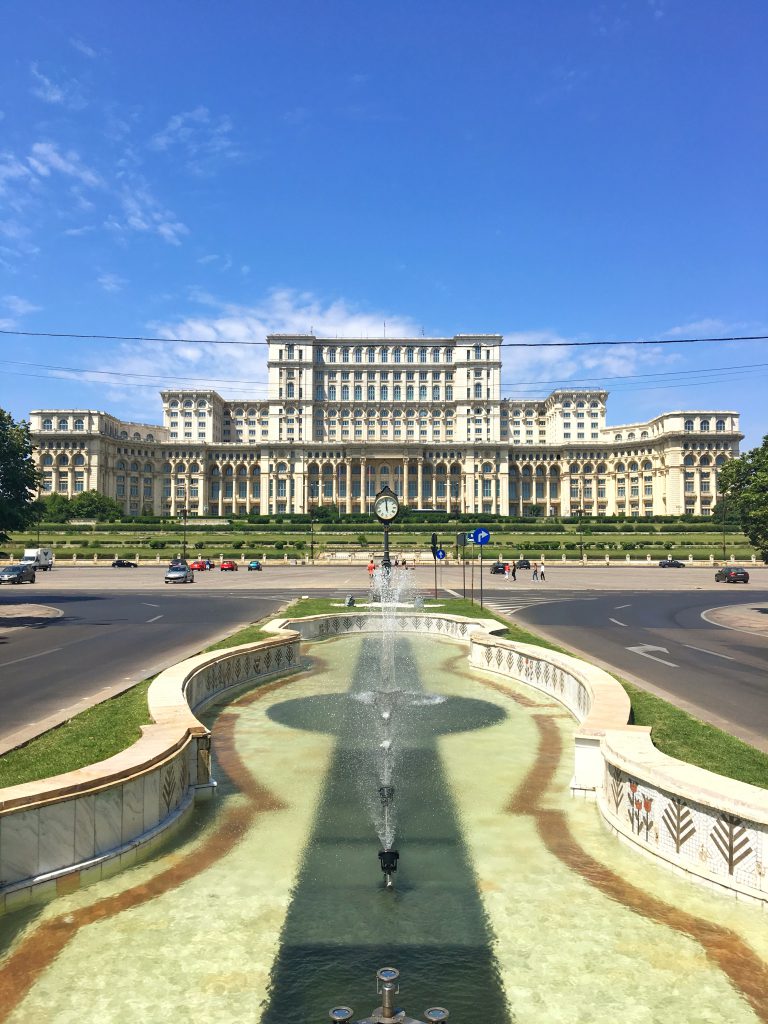 Anyway, after this interval, we proceeded and got to the parliament – it's really ginormous (we even tried to get up to a rooftop there nearby but this time we couldn't – so if you manage to find one accessible, let us know!). A large and long street rolls out in front of the Parliament, with colorful fountains in the middle – very nice view!
Third tip: walk. Don't move with buses or taxis, or you'll be missing out on what makes Bucharest special. Hidden treasures are hidden in impossibly small alleys, such as colorful umbrellas hanging on top, tiny chapels and ancient cafes.
Rumanian food is not as well- known as it should be. Sarmale, for example, is a dish composed by cabbage rolls stuffed with minced beef and spicy herbs; Mamaliga is a cornmeal porridge topped with grated sheep's cheese. Greek and Turkish culture are however very present in the capital, and you find plenty of street food restaurants with more typical dishes to western palates, if you don't feel like jumping into the local cooking.
Bucharest really is a city worth visiting different times. Its diversity makes you think you have been visiting a mixture of different cities summed up in just one – where western habits meet old communist style, orthodox religion and Turkish culture.