A dance, a dinner and a lot of good vibes
If this place is good enough for Mick Jagger it is good enough for me. The famous rock band rolled in days before I could taste through the menu of Tarantella.
After 3 weeks to rehaul and redesign their interior the restaurant opened it's door to their hungry clientele so I followed suit and stepped through the calm terrace and into the warm and cozy halls that is Tarantella (which also is a whirling dance that originated in southern Italy). I have to tip my hat to the interior designer who did a splendid job capturing the essence of this place. A mixture of laid back coolness dipped in petrol, dark grays and mahagony colors. No matter if you come for a private dinner or are out for a romantic evening the very friendly and efficient service team will take care of you.
Even tough i was there for the food one of the highlights was to chat with the team and the chef Carsten who is a charming veteran chef with a heart warming no-nonsense approach to life and his food.
But let's get to the essentials – the chow.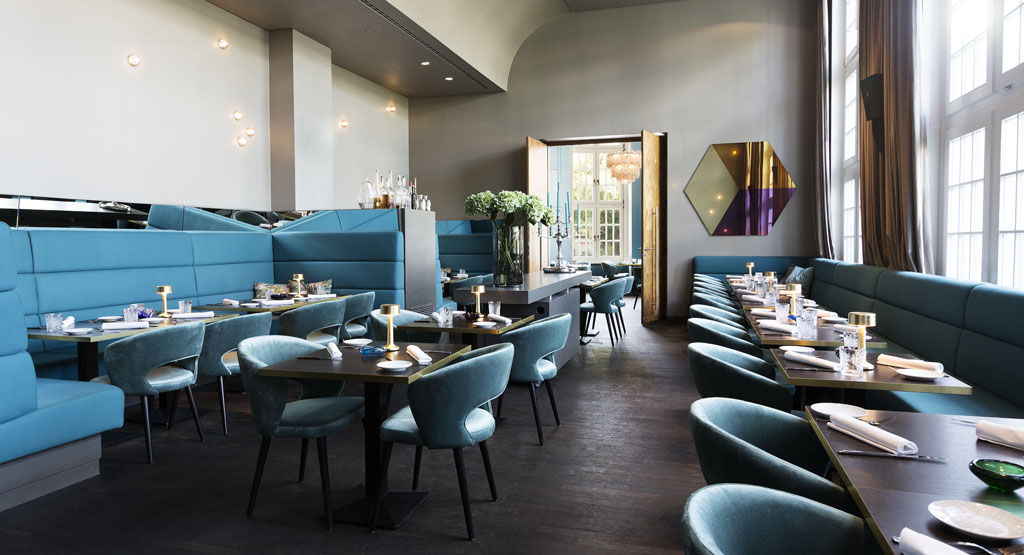 FOOD
I had so much food this evening that I will just list my favorites and there have been a lot so this will be a long list so stay with me.
I started out with a lobster soup with truffles well seasoned and in a tiny espresso cup and of course the Flammkuchen with truffles needs to be mentioned that was a cool approach to share your food on the table. Crunchy with the right touch of Umami. As an in-between course I had the tuna steak which was seared with black sesame and left almost raw on the inside…so mouth-watering. The addition of peach and Enoki mushrooms was a brilliant approach to a classic dish. The second in-betweener was a Langoustine on a truffle puree mixed with grilled salsiccia. I am a sucker for this Italian sausage and this was my personal highlight of the evening and that included a to die for Tomahawk steak we destroyed – seared to perfection with so many sides, I couldn't name them all if my life depended on it. The reason might be that drinking a tasty red wine (my favorite was the – Abadia Retuerta 2013) all night long tends to loosen the tongue and the brain. By the time we reached the dessert variation with everything from brownies to raspberry ice cream I was close to a happy food coma.
The thing about Tarantella is that while I was devouring all those delectable dishes I had a blast talking, drinking and just having a good time and I think that was the whole idea behind the redesign.
Additionally there is a private dinner room (10 PAX) where you can enjoy a special evening all to yourselves (see pics).
I wish them all the luck in the world and want to say thank you for a great evening. By the way this is not a sponsored post (we don't have those on VV) but sometimes good times need to be thanked for.
Tarantella – www.tarantella.hamburg
Stephansplatz 10
20354 Hamburg
Telefon: 040 – 650 677 90
Telefax: 040 – 650 677 87
E-Mail: info@tarantella.cc