Where to stay in Mechelen – Hotel Brouwerij Het Anker
So you finally decided to visit the lovely town of Mechelen and now you are wondering where you should sleep. Look no further I got you guys. Why not spend the night in the only brewery hotel in Belgium? Yes you heard right. A place where they make the beer in walking distance to where you would be sleeping. Basically I could stop writing at this moment but that wouldn't be an article but more or less a longer text message. (Where to stay in Mechelen)
So lets dig in. "Where to stay in Mechelen"
Here at Hotel Brouwerij Het Anker you can wake up and enjoy your breakfast as the brewers are hard at work creating your beer for later or now. Who am I to judge.
All rooms are equipped with shower, Tv, and of course free Wi-Fi. I loved staying on the ground floor where my door leads to the outside and sit down on one of the chairs in the courtyard. It had a weird "My house" feeling to it. Inside some of the design elements have beer on their mind something I truly loved.
The bed is comfy the room is very big and incredibly priced for the size. Everything feels brand new and has a charming coziness to it. Probably to make it easier to fall asleep after you enjoyed a couple of beers.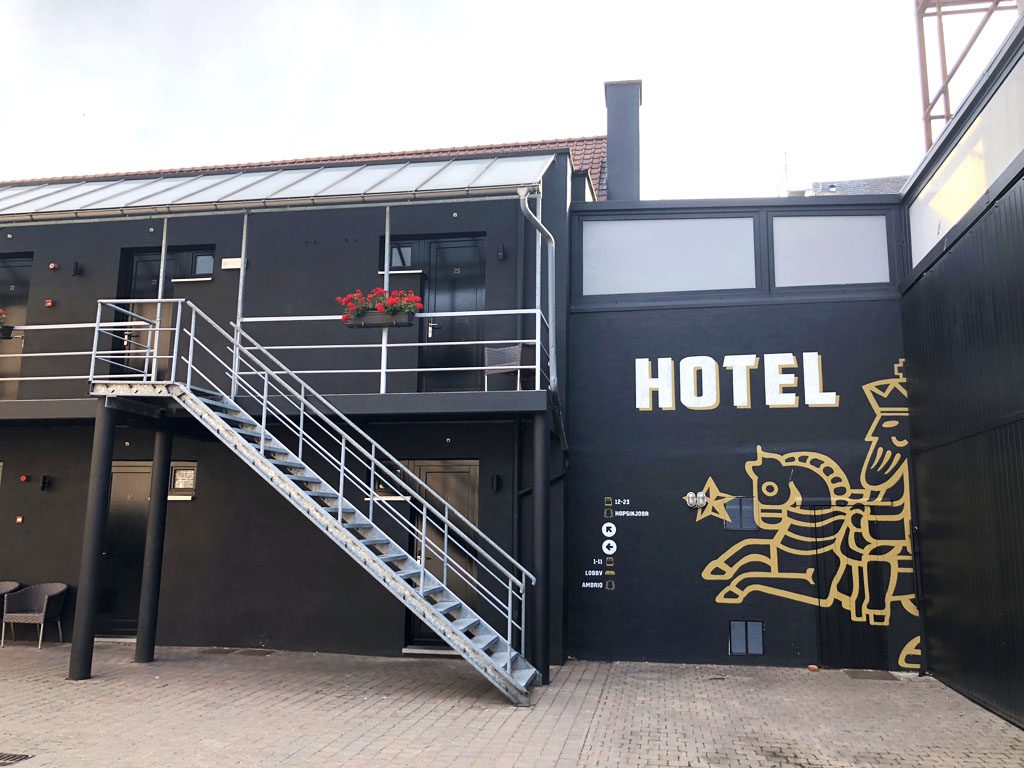 The glorious fact of living in a brewery is that you can not only drink it, or eat at the brasserie but also actually take a tour of the brewery or even their distillery. Het Anker not only produces beer but also a delectable Single Malt Whiskey. What you should definitely try is one of the Maneblusser beers as it comes with a hilarious back-story. Back in 1687 on one cold January the moon projected its reddish glow on Saint Rumbold's tower, which was wrapped in a dense fog. "Fire, fire, the tower is on fire!" shouts the dreary voice of a drunken man. As the people are running to the tower the fog lifts and gives the Mechelenians the name "Moonextinguisher" or Maneblusser.
As I am coming to the end of my story and the review, I'll pour a glass of Maneblusser beer and reminisce about the time I spent in Mechelen.
Hotel Brouwerij Het Anker – Where to stay in Mechelen
Guido Gezellelaan 49, 2800 Mechelen, Belgium
Thanks for reading " Where to stay in Mechelen – Hotel Brouwerij Het Anker" we are happy you found us and would appreciate your support with a follow on instagram (www.instagram.com/vanguardvoyager)