Brussels
If you wanna spend a couple of days in Brussels let me quickly sweeten the pie for you a bit with some unnecessary but lovely facts and then we get down to business. You might love Brussels a bit more because the divine Audrey Hepburn was born here in 1929, it has one of the deepest indoor swimming pools (33 meters) and french fries were invented here or at least taste better here then anywhere else.
So let's check of all the wonderful reasons to visit this gorgeous city and as usual I skip the how to get there or around and so on so I have more time to tell you about things to see and do.
First of all it should be clear to everyone that this is beer heaven but to be honest this is not exclusive to Brussels but to Flanders in general. With over 400 craft beer brewers and as far as i could find out over 1000 beers in general this is where you should go to drink beer. You should know that there is a culture behind drinking beer and there are connoisseurs who can teach to a thing or two about the tasty golden, red, yellow, black and orange ale and a range of flavors that go from lemon salt to sweet apple pie. Seriously it's insane.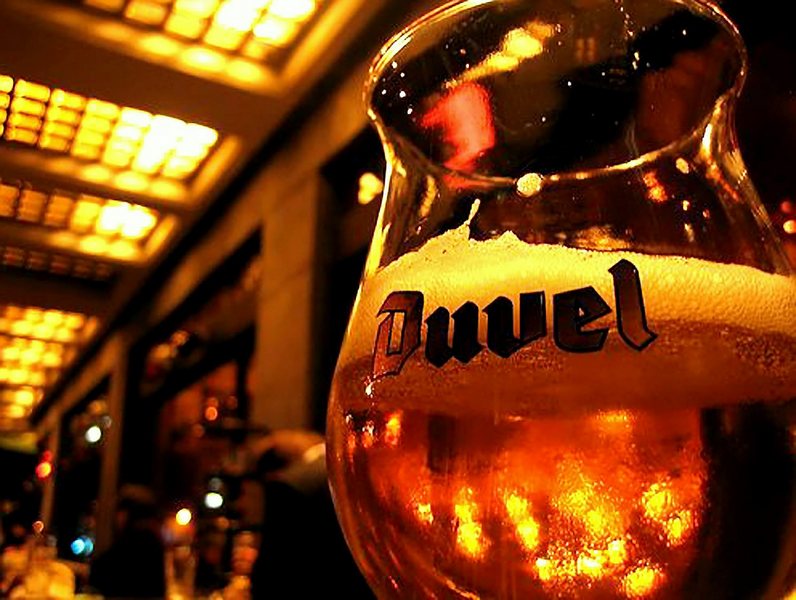 I do a lot of research before visiting any place but somehow i never looked up how tall the atomium is and almost choked on my Duvel when i saw it the first time. It is intense, huge and a highly sophisticated technical achievement built between 1956 and 1958. Towering with 102 meters over the outer rim of the city you get an amazing view and i would definitely recommend the trip to the top. Side Note: The very intense photographer at the entrance who forced me to take a picture with their mascot needs to chill out for a second. 🙂
Someone voted this place the most beautiful square in Europe and i can absolutely and without a doubt confirm this. You can get comfy in one of the many touristy restaurants or cafes and enjoy your brilliant overpriced coffee or just walk to the next waffle or fries takeaway and relax right in the middle of it. Breath in the history of this place that started in the 10th century with a dried up marsh land. The opulent guildhalls and two larger edifices, the city's Town Hall, and the Breadhouse (French: Maison du Roi, Dutch: Broodhuis) building make it an unforgettable moment at this UNESCO World Heritage Site. Side Note: Every two years in August a gigantic flower carpet is set up in the middle of the square.
food
Most people will tell you about the waffles and fries and yes they are freaking awesome but don't forget about all the other delicious entries like the meatballs, the stoofvlees (goulash like dish), stoemp (mashed potatoes with veggies), the moules frites (and truly forget about the ones in Paris – this is the place where in my opinion this dish was born and made to perfection), the filet americain and the chic au gratin (look it up). At some point i will be back and it is going to be just about food and where to get the best of it. So stay tuned. Also absolutely need to try the Paling in't Groen (Eel in herbs).
Other than that Brussels has one of the highest standards of restaurants in the world with Michelin starred restaurant at each corner for you to get your grub.
art nouveau
One of the important cities for the art nouveau movement headlined by the brilliant Victor Horta and Paul Hanka. Just walking around the city you will notice all the little details from doors to window frames to tiled mosaics and bigger ones like the Van Buuren Museum and the Maison Cauchie. Despite its popularity – geographically and its influence on media – Art Nouveau was a short-lived style dating only from 1880 – 1910.
chocolate
As i am not a sweet tooth all i can tell you from my amateur knowledge is that you can find it at every corner and yes it is indeed very good. End of story.
maneken pis
the most overrated figurine in the world. skip it. instead of watching a little boy piss and take pictures with it, go enjoy the collections at the Museums of Fine Arts and thank me later.
This is one of the main reasons for me to visit this town again and follow the Brussels Comic Strip Route and enjoy over 50 murals painted on walls around the city depicting iconic characters invented in Belgium like Tin Tin, Lucky Luke, Gaston, Gil Jourdan, Marsupilami and many more. For me, stumbling over a painting where Tin Tin is trying to escape over a fire escape (the whole thing is life-size) is a very happy memory and hopefully soon i will be scuttling through one of the many comic book stores looking for my kind of treasure.
places to see
Architecturally speaking Brussels is extremely interesting and worth exploring on foot – from the first shopping arcade with its glass roof – Galerie St Hubert, the 9th century Cathedral of St. Michael & St. Gudula, the Brussels Stock Exchange to the Royal Palace of Brussel in its neoclassical style there is always something happening right around the corner or mostly right in front of you.
All in all i had a wonderful time and will definitely be back for a more in-depth exploration and can't wait to hit one of the famous festivals this city has to offer. So i will leave you with one of my all time favorite sayings
"Nu komt de aap uit de mouw"
Translated: "Now the monkey comes out of the sleeve"
Meaning: Now the truth is revealed!
Thanks go to Visit Flanders for this great opportunity and its charming team for making it unforgettable.