July 22nd, Friday. 5.33 in the morning, and I couldn't sleep. You've been there too, I suppose. It was one of those nights where you keep tossing and turning in your bed, thinking about apparently unrelated things but in your head, everything, somehow, makes perfect sense.
Anyway, July 22nd, Friday. 5.33 in the morning. I just got hit by a striking thought. I unlocked my phone, launched the SkyScanner app, and checked the daily flights from Vienna. Destination? Everywhere, as long as it took off that same day. There was a flight to Samos, Greece, at 10.35, which meant I had 4 hours left to pack and rush to the airport. Doable!
Eventually I arrived at the airport and, once boarded, I started reading some infos about Samos, and boy, did it look great! Nevertheless, international tourism hasn't conquered the island yet, since people are more attracted to other near islands, such as Mykonos or Kos. Offbeat getaway, baby!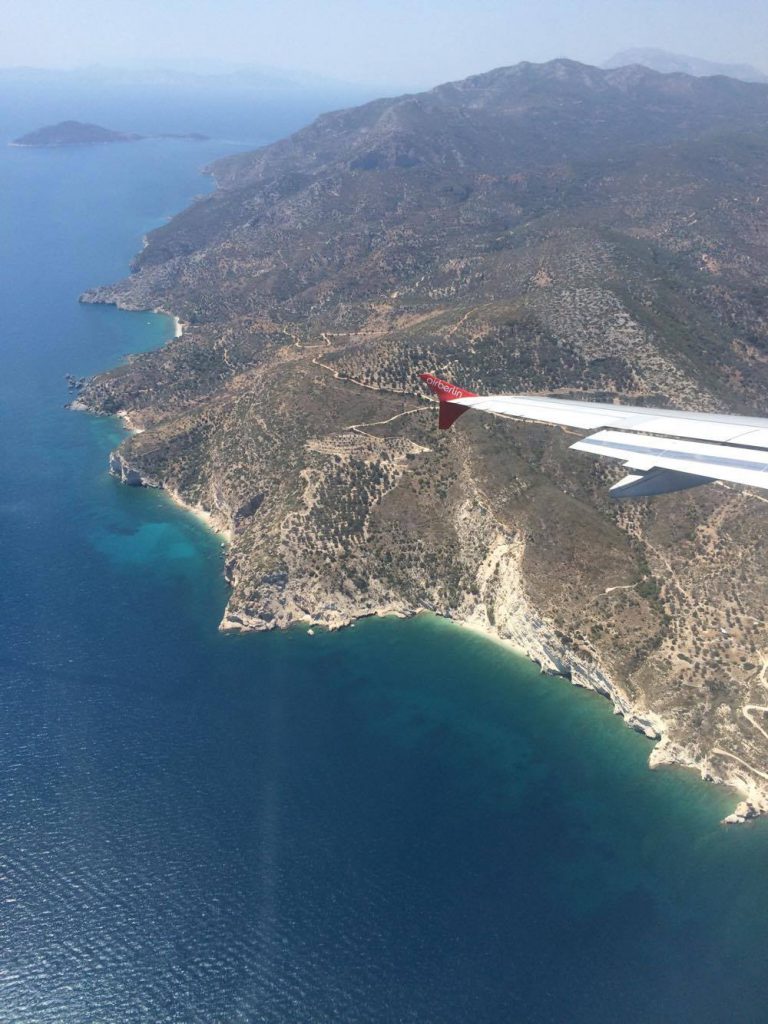 It was around 13 o'clock in the afternoon when we landed in the small and cozy airport of Samos. I immediately headed to the exit looking for a car to rent. After all, I had no idea where I was, and I had to find a place to stay for the next 2 nights. My travel buddy was a Suzuki Alto, unsteady and lovely at the same time. I got in, started it up (took me 3 to 4 minutes), and drove to the next village, Ireo, 15 minutes from the airport. The streets were surrounded by olive tree groves, incense, rock fences and crickets' calls. Yes you're right, it was as amazing as it sounds.
Ireo is a small village, where you can find more fishing boats than houses. I left my racing car near a park, and I started walking in search of a place to stay. I ran into a family-run hotel (Karin & Nikos), that thanks God had a free room for me.
So, with my small backpack, I got back in the car and drove without a exact destination. After some 5 minutes, I found the Heraion, temple of the goddess Hera, built more than 2500 years ago. Unfortunately, there was not much left to see, since it is very old. Nevertheless, the temple is situated on a hill and from up there you have a nice view onto the coast.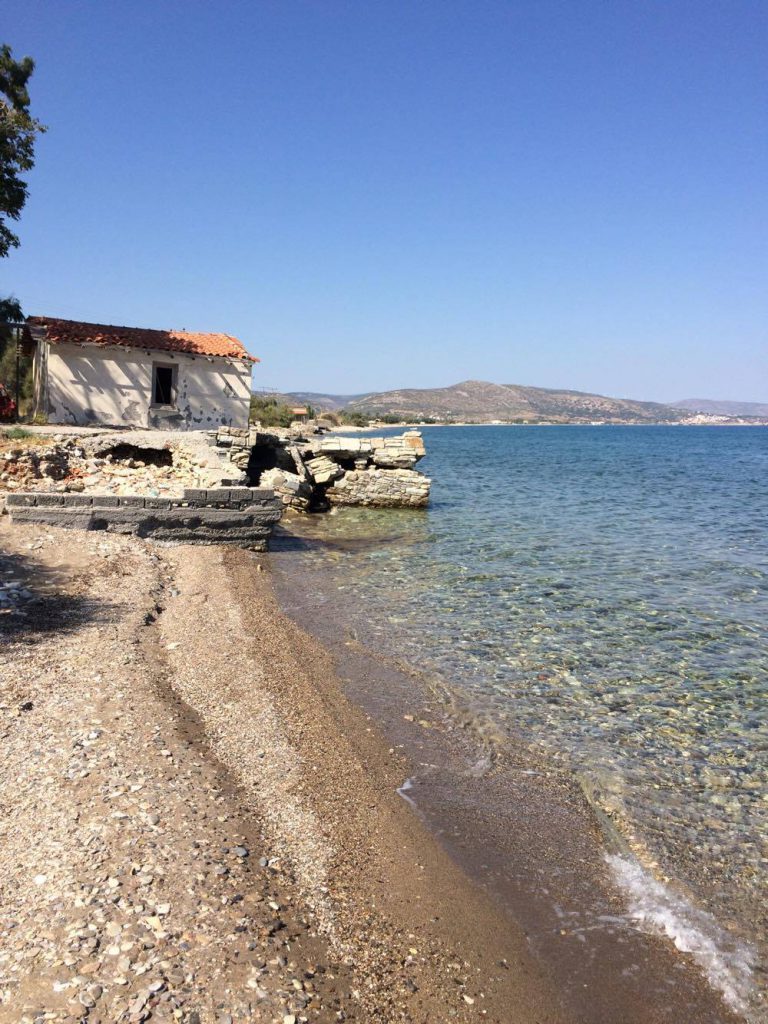 Insider tip: when you get out, keep walking along the street and then turn left. From there, continue until you reach the sea, then turn left again and keep going. There's an abandoned dwelling with a porch. That's the view:
It looks very hipster, true, but I swear that it's worth it. You won't find anyone hanging around there, so if you occasionally like solitude, this is the place. The downside of this hidden gem is that you have to beware of wild goats. I had to run from one, but as I said, totally worth it. If you lay down you will see a part of Turkey in front of you, which looks like a giant mountain and transparent sea.
On an empty belly, I drove back home and found out that Ireo has a magnificent pedestrian street along the seaside full of restaurants. I sat, ate fresh fish (what else?) at a very reasonable price, and took a walk through the village. Small alleys, cats, people playing cards and drinking homemade wine, fishermen ready to set off, and more cats. Just peaceful.
The next day started at 6.30 a.m., since the beach I wanted to visit was on the other side of the island. After a 45-minute trip, where I drove passed deserted mountains with no human trace whatsoever, and from where I could see the whole freaking island, I arrived at Karlovasi (there's a University here, for those looking for a possible destination for their Erasmus semester), parked, and started walking westward, destination Mikro Seitani. Though the path was not documented at all on the Internet, after seeing some photos I decided to give it a shot anyway. So if you're ever planning on going there too, here is a short description. If not, read it anyway, it's fun.
Go to Potami beach, which is easy to find, and from there keep walking until you find a small hill. Continue (and, because of the steep path, it won't be simple), and at some point, you'll be walking on a dirt road surrounded by pines and no sign. There's a trail on the right, do not take it, but take the second after 10 minutes instead. This path brings you to the beach, but you have a long way to go, my friend. Among olive trees and gigantic rocks, you'll be walking on a track that's sometimes hard to define so. You're in the middle of pure nature, no human trace at all, goats emerging out of the blue and making you scream like a savage, and bears (kidding, there is no bear – at least I didn't find any). I have hiked a lot in my life, but never has it been so intense and adventurous before. When you finally get to the small beach, don't forget to record a selfie video and send it to me. I want to see how crazy you go. The view is astounding and the most awesome thing is that the whole beach is yours (since you and I are probably the only weirdos that will be there at 8.30 in the morning…). I suggest you relax, while listening to the waves crushing on the rocks and the morning warmth of the sun gently caressing your skin.
You wanna hear something cool? Of course you do – the adventure is not over yet! On the left you will see a tumble-down stairway that'll lead you to the other side from where you saw the beach the first time. The path is very similar, so if you enjoyed it, this is going to be your paradise on earth. You will then reach Megalo Seitani (which is bigger, doh) different but just as spectacular.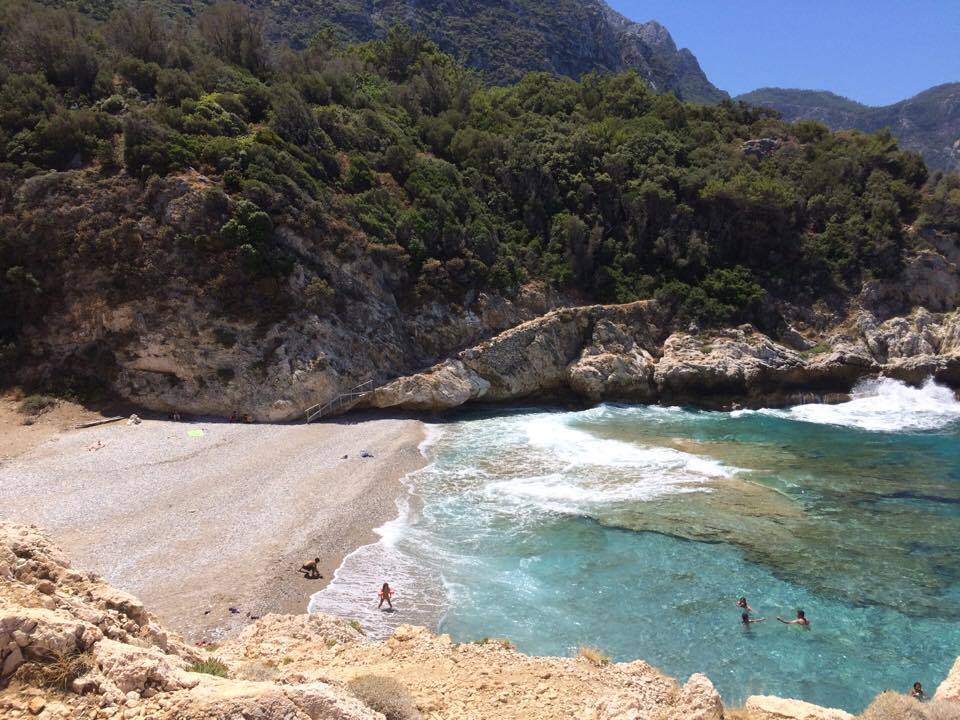 After almost 9 km, you'll be tired but most importantly hungry. I went to Karlovasi (where I left the car) and I had a huge, juicy and regenerating Pita (typical Greek sandwich) for less than 3 €. I was about to devour it in one single bite when, out of the corner of my eye, I noticed a nice and small church sitting on a hill not far from where I was standing. I rushed to the car, and darted up the road, with my Pita standing by me. After zig-zagging my way up, I finally reached the peak and, very satisfied, I enjoyed my meal with this view in front of me.
On my way back, I encountered monasteries and churches I hadn't seen before in the middle of nowhere, barely visible from the street, (photo) with the sunset on the horizon. This island is gorgeous!
At the hotel, I got to know some Dutch girls who were heading to Kokkari, the nightlife capital of the island, for drinks. I joined them and, well, Samos showed me that it's not that calm and desolated after all! Many bars and clubs along the beach, with good prices and nice music.
The next day, the adventurous and spontaneous getaway came to an end. My plane was scheduled at 13.30, but I still had some time to visit Pytagorion (where the airport is located, and where Pytagora was born), the Ancient Theatre and the monastery of Spilliani.
There's no doubt that this island will become more touristic in the next years. So take the chance and fly there now if you want to escape for a couple of days and be surrounded by transparent sea, olive trees, incense and good food. And goats, a lot of goats.