Best Shops in Eindhoven – Let's take a walk people.
Alright Alright Alright….So I got out of the plane in Amsterdam and straight away onto the train to Eindhoven because…..come on let's be serious for a second: As much as I love Amsterdam there are at anytime more tourists in the city than locals. This fantastic city is overrun by people and so my new agenda will be to find all the other wonderful places in Holland that are worth visiting. As anyone who remembers anything from Geography lessons in school knows…Holland is not Amsterdam so lets finally list the best shops in Eindhoven.
DESIGN INFO
Just ONE hour by train away is the charming city of Eindhoven, which translated from its original name means End Yards (the more you know). It was given the name somewhere around the 13th century. After lots of crisis and a couple of wars Eindhoven finally found its place as the capital of industrial design not only because of the Dutch Design Week but also because of having one of the best design academies in the world.
For this trip and I hope there will be more I am focusing on showing you guys some of the hotspots to get rid of your money in exchange for awesome stuff aka SHOPPING.
FAST FOOD TIP
Before you start or as a quick stop in between you shouldn't miss out on getting a burger at Five Guys as there are still very few locations in Europe where you can get one of the most famous burgers in the US. You need to eat here! Trust me! Even though it is a chain restaurant and if you are an American you probably know ten better burger places in your city alone….but again I digress.
Finally time for best shops in Eindhoven!
Street Nieuwe Emmasingel
Sissyboy @DeBlob (https://www.sissy-boy.com/)
The glass globe also lovingly called the Blob is home to this huge concept store that provides everything for the hip customer looking for interior, fashion and/or jewellery. With its minimalistic design and the glass facade it is already worth checking this place out just for the view and the coffee that you can enjoy on the first floor.
Homestock (https://homestock.nl/woonwinkel-eindhoven/)
An interior design shop that is stacked to the roof with a Hoi Polloi (a mix of everything) of mirrors, couches, sideboards, shelves and a lot of other deco objects. It has a bit of a hippie vibe to it with a lot of colorful items and a homey and personal feel to it. They are located in 4 cities one of the being Rotterdam (of course I checked that one out too). Their online shop as far as I know only delivers inside Holland. Time to upgrade my friends I need that ornamental bird-cage :).
Mr. Brown (http://www.mrbrown.nl/)
Glasses, Glasses and Glasses. All the brands you can think of from around the world and each collection is stacked from the casual to the exceptional. Of course you can get a coffee here too. Wooden interior and industrial feel invite for a cool experience and maybe a new pair of shades.
Hutspot (http://www.hutspot.com)
Ohhhh all the white. Hipster Heaven (which is not a bad thing btw.) – White walls, tables, countertops – from top to bottom. Between this stark and reduced interior are all the products displayed your designer heart might want. A bit pricier but for that you get the goods not everyone might have from bicycles to lamps, from spherical biodomes to minimalistic jewellery. The owners offer up and coming brands the space to exhibit their collection within the store for a small fee and a cut from the sale – time to get designing.
Bookstore Van Piere (http://www.libris.nl/vanpiere)
Of course my coffee tour through Eindhoven kept going on and here in between books, magazines and coffee table papers I enjoyed my 454 espresso.
Street – De Bergen 
De meisjes van Blauw http://www.demeisjesvanblauw.nl/
If you are looking for classic high fashion brands for women from Red Valentino to Barbara Bui then you are at the right spot. Classic shop interior design with a lot to look through for the woman who knows her way around the fashion world and wants to sport that look in her daily life.
JokkMokk https://www.jokkmokk.nl/
It's all about the cheese. The owner focuses on cheese in every variation and offers his advice to all who are lovers of the yellow gold and want to get into the real stuff and not the standard fare you get in tourist shops around Amsterdam ;).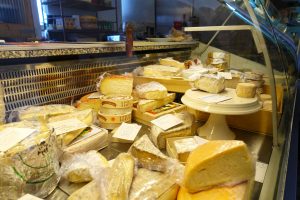 Bean Brothers https://www.beanbrothers.nl/
Time for another coffee break in this mixture of a coffee shop and speakeasy. It is very hard to find this place as the only indication to the coffee shop that is nestled in the courtyard between two buildings is a sign that reads "Stradsbranderij". I enjoyed the homey feel and relaxed atmosphere while chilling on a couch and sipping on their own brand of coffee….exquisite.
Strijp S district
http://www.strijp-s.nl/en/home
This place is so awesome it gets its own article riiiiight here! -> STRIJP S DISTRICT