Come fly with me! Let's fly over Flevoland
As I am driving to the Lelystad airport in – you guessed right – Lelystad I am pumped for my helicopter flight over the land that was once under water. The drive is short from my house I rented with Novasol and within 25 min from Dronten I am parking the car at the tiny airport and head for the Helicentre (Emoeweg 12).
If I am saying airport you have to imagine a place with landing strips that are easily accessible and a lot of small planes ready to take off. Some of them are historical machines like double-deckers or the famous French Fouga Magister.

Helicopter Flight:
The introduction to my pilot Frederick (hope I got his name right) is short, precise and is accompanied by a cup of coffee. Walking through the hangar the red beast is ready to take off outside. Taking my time to shoot a million pictures I am ready to run under the spinning rotors like a badass action hero but of course this would be way too dangerous and an unnecessary risk. So I buckle up as he goes through his checklist.
Side note: Unless it is winter dress as lightly as possible. The helicopter gets hot like you are sitting underneath a magnifying glass. 
Back to the story! The rotors spin and we are off. As the heli rises higher and higher I finally understand how flat the surrounding area is. With farmland and tulip field as far as the eye can see. We fly across the plain and I am frenetically taking pictures and videos.
Sidenote: As you are shooting through the glass window I can really recommend putting a Polarisation Filter (CPL) on your camera to avoid reflections on all your pictures (unfortunately I didn't bring one so learn from my mistakes)
The most amazing part is the flight over the canals, rivers and islands and as I am passing over the Dolphinarium the beauty of Flevoland amazes me again and again. Time flies by (pun intended) and soon I am back on earth wondering what to do next. You should choose at least a 30min flight with the helicopter. Anything else is too short and if you wanna see more go for the 60min version.

Food:
My stomach calls for food and I head to Flantuas the airport restaurant. I take a seat on the outside balcony and enjoy the hustle and bustle of airplanes and helicopters taking off and landing. I wasn't expecting much from Flantuas because let's be honest it is an airport restaurant but boy…was I wrong.
The menu was Michelin star worthy! Starting out with my appetizer a variation of differently prepared meats all coming from a local farms. I chow through meatballs in puff pastry, homemade beef jerky, pastrami in sauerkraut with coriander and mustard seeds.
For the next course I am treated to a pumpkin tulip soup reflecting the theme of the menu – the tulip onion. A delectable treat as the shredded tulip onion harmonizes with the pumpkin perfectly.
The main dish was a variation on a Peking duck with one mashed potato and tiny tulip onions …insert yummy noises here.
As the final entry and the crown of the menu the dessert was a pear and saffron ice cream that came with caramelized tulip onions. Prepared in a sous-vide with laurels and star anise. How am I eating all of this at an airport restaurant was the thing that mostly went through my head and of course this sound: MMMMHHHHH.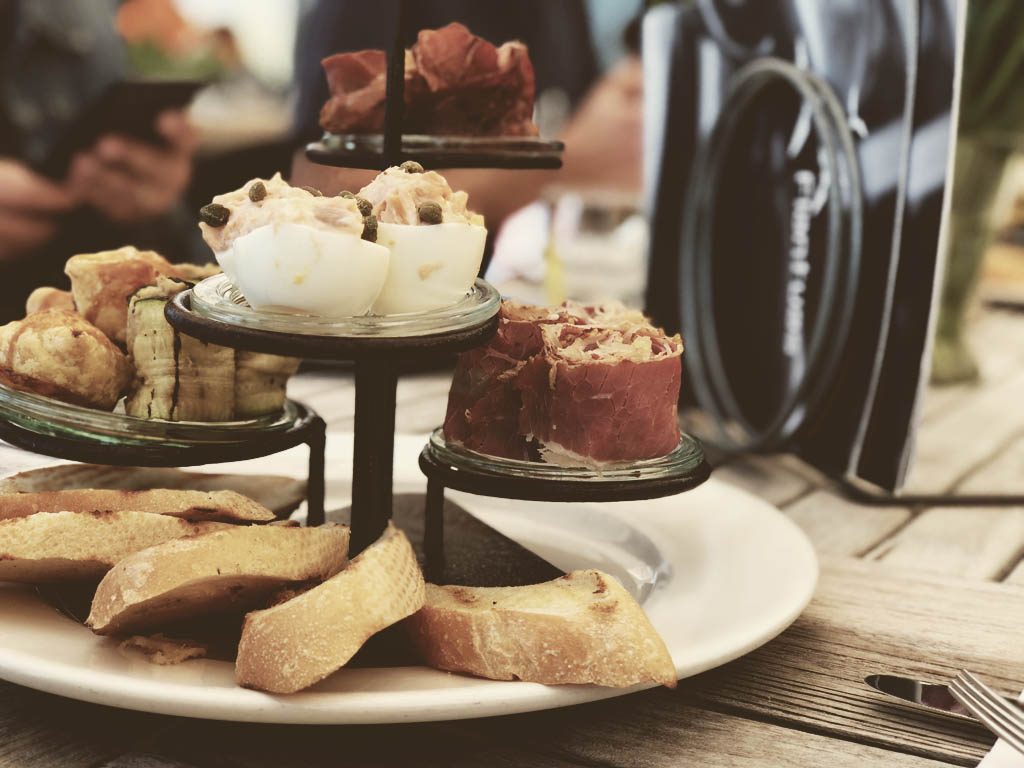 With a full stomach and a new love for tulips I am leaving the airport light-headed. Maybe it was because of the delicious food or the cool helicopter flight. But does it really matter?
Getting into the car I start humming:
"Come fly with me let's fly let's fly away.." …Sinatra always knows how I feel.
Lelystad Airport
https://www.lelystadairport.nl/
Arendweg 7, 8218 PE Lelystad
HeliCentre
Emoeweg 12, 8218 PC Lelystad
Flantuas
Emoeweg 4, 8218 PC Lelystad