The Best Foodie Guide Izmir – Seriously I ate all of those dishes!
As I am obsessed with food I thought lets combine the sightseeing with stops at delicious stops for food drinks to step up the yummy factor.
First of all there are a couple of dishes you need to try so let's count them down and the best thing about it is you can do that tour in a couple of hours while you also do some sightseeing from the bazaar Kemeralti to the Izmir Clock Tower and definitely take the elevator to the top of the city with the Asansör for a great view.
Here are my favorite dishes for the Foodie Guide Izmir!
Basically this guide will take you to some of the best places to eat that specific dish. What I can recommend is to order one dish and ideally share it as you probably wont make it through the whole tour in a day.
Izmir Köfte:
This is probably the most famous dish specific to the city and is best described as spiced burger patties with a tomato sauce, usually with mashed eggplant puree and potatoes. As a side you usually get a bowl with fresh chili peppers (not too spice).
I love this dish and as my time in Izmir was running out I decided to eat this as a breakfast meal. Even though everyone in the restaurant looked at me funny I thoroughly enjoyed it.
Location: Adil Müftüoglu – Ugur Lokantasi
This place opened 50 years ago with some of the staff working here for more than 30 years. The name is known through the whole city. The place to be basically.

Midye Dolma
Another dish that is beloved by locals in Izmir. These are mussels stuffed with rice and spices and drenched in lemon juice. A perfect summer snack and as this is basically street cart food you can find it all around the bazaars and Alsancak.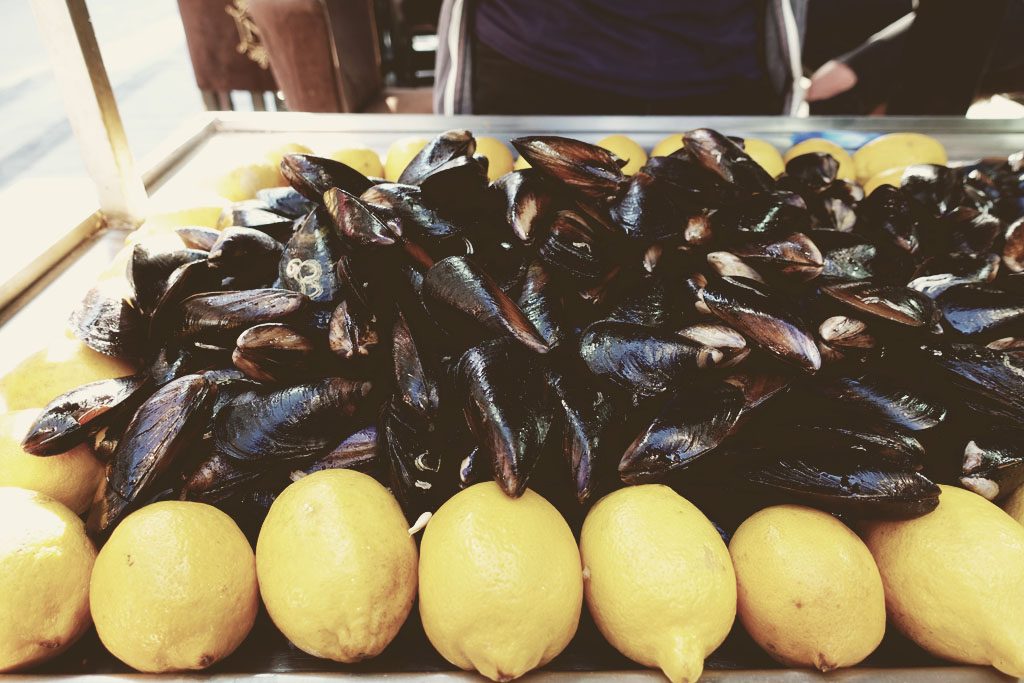 Börek
Definitely one of the most famous Turkish dishes and is made from a thin flaky dough then baked and filled with veggies (spinach/feta) or meat (ground beef). But there are no borders for their imagination and you can get Böreks with kinds of fillings from sweet to savory.
Location: Antalya Börekcisi
Tiny food stall with outside seating, – order, eat, leave or repeat.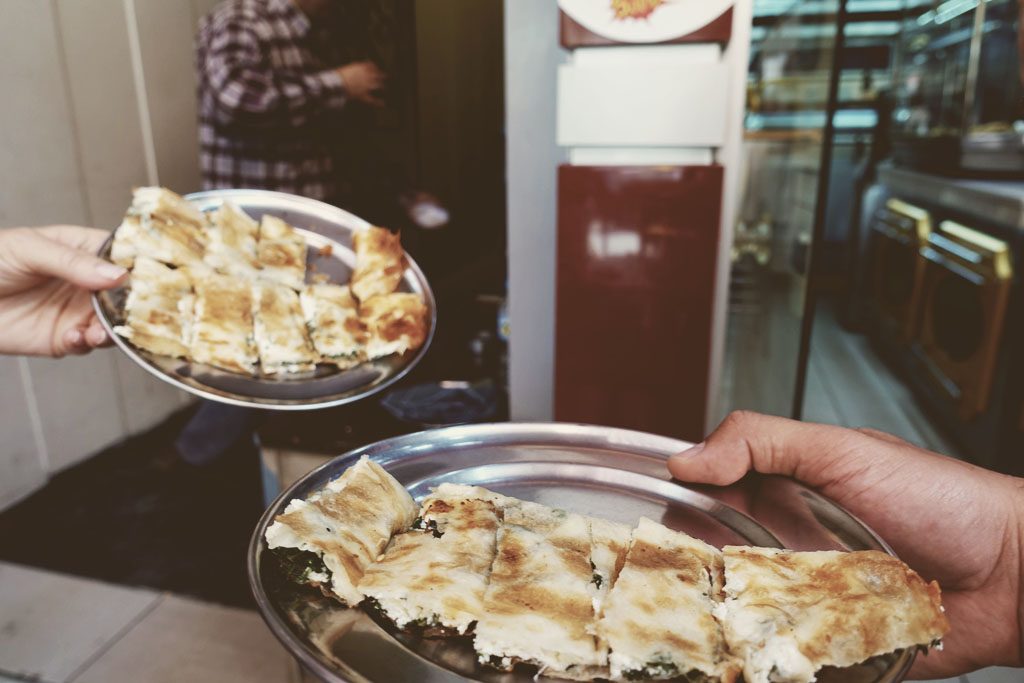 Pide but especially Kavurmali Pide
Basically a flatbread that is covered with meat or vegetables – the dough is rolled up on its sides and baked in what would best be described as a Pizza oven. It is delicious in every variation BUT my absolute favorite is the Kavurmali Pide which has a filling of tiny steak cubes and additionally the bread is closed like a calzone pizza and the opened up again. To die for!
Location: Numan Pide
There is nothing to add here. The literally make only Pide so they know their shit.

Kokorec
Ok this might be scary or shocking for the light stomached people but I swear to you it is delicious. I give you a really short description: On a large metal skewer lamb intestines are wrapped around innards like sweetbread, heart, lungs and kidney (usually chopped). The thing is slowly grilled of over hot coals and then chopped in tiny pieces and delivered in a sandwich either with some additional sides like lemon, olive oil, tomatoes and so on or pure (my favorite).
Location: Asim Usta or Baki – Basically in Izmir I would only eat Kokorec here. They make the best one!
Come on! We are at Number 5 in our Foodie Guide Izmir and it's so delicious!

Iskender Kebap
So basically this is the one dish that everyone has their favorite restaurant that they love to go so it is difficult to pick the best. The dish consists of thin slices of grilled lamb from a gigantic Döner skewer with tomato sauce on a bed of flat bread. The sides include peppers, tomatoes and yogurt. For the best taste experience (I guess) the whole thing is then drenched in melted butter (people with heart problems should definitely stay away!)
Location: Can Döner
As far as I know from a lot of locals this is place absolutely belongs to the Top Ten in Izmir and is also like all of the restaurants in walking distance to the waterfront and the Mövenpick Hotel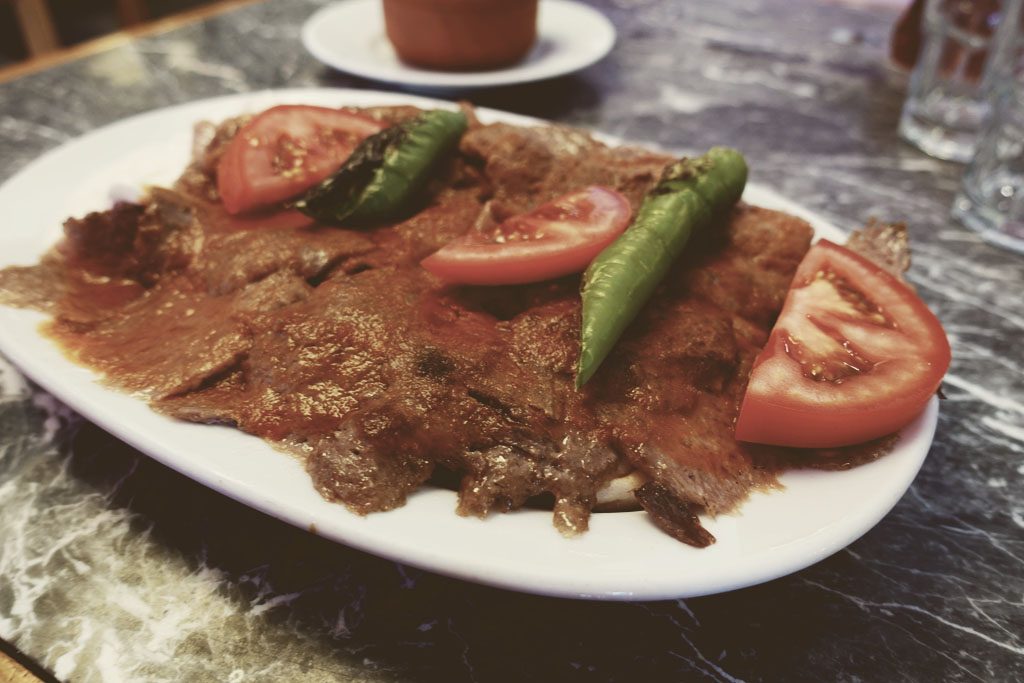 Kazandibi
Kazandibi is a dessert and is a milk-based pudding with a very light vanilla note to it. The dish is prepared in pot and the most wonderful part of it is that they let the bottom of the pudding burn slightly which takes it to next level – taste wise. Before taking a spoonful don't forget to season it generously with cinnamon.
Location: Süt Cicegi – Süt Tatlilari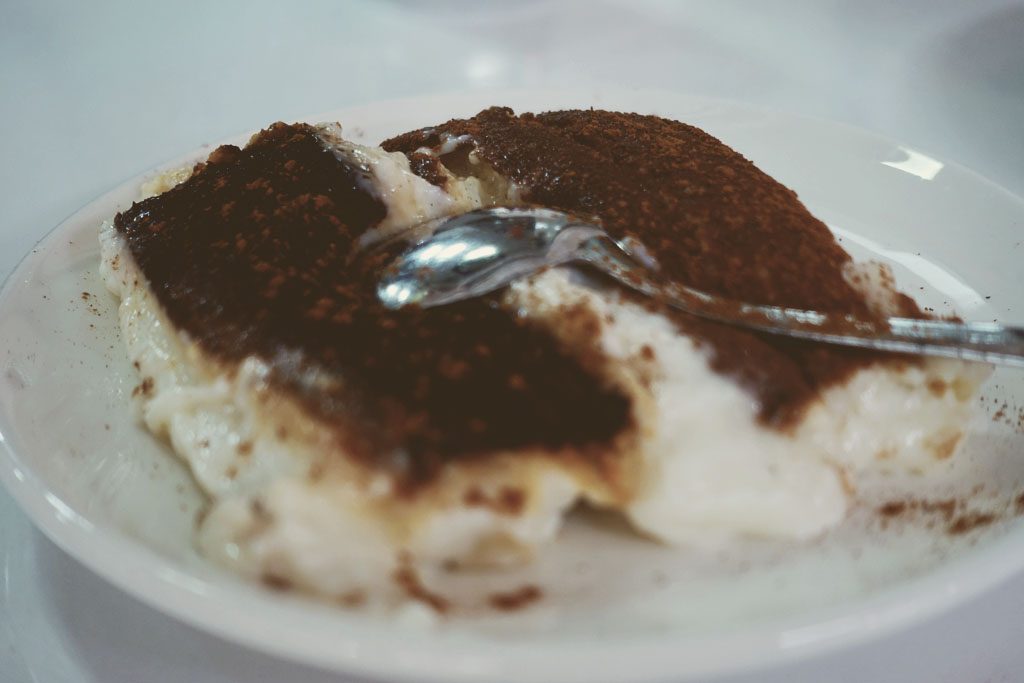 Sambali (Shambali)
A sticky honey covered semolina cake which is sometime flavored with orange blossoms, rose syrup or classic (my favorite). This baby is delicious but soooo sweet. I literally can eat a tiny slice and have enough sugar to last me the whole day.
Location: Meshur Hisarönü Sambalicisi (It seems from pictures they have two locations. I only visited the one in the bazaar)
This hole in the wall has around 2 square meters of space and also no seating or even a trash basket close by. I was amazed how two charming girls can work in this place. Seems like it is enough space for making Sambali and this place is famous around the city.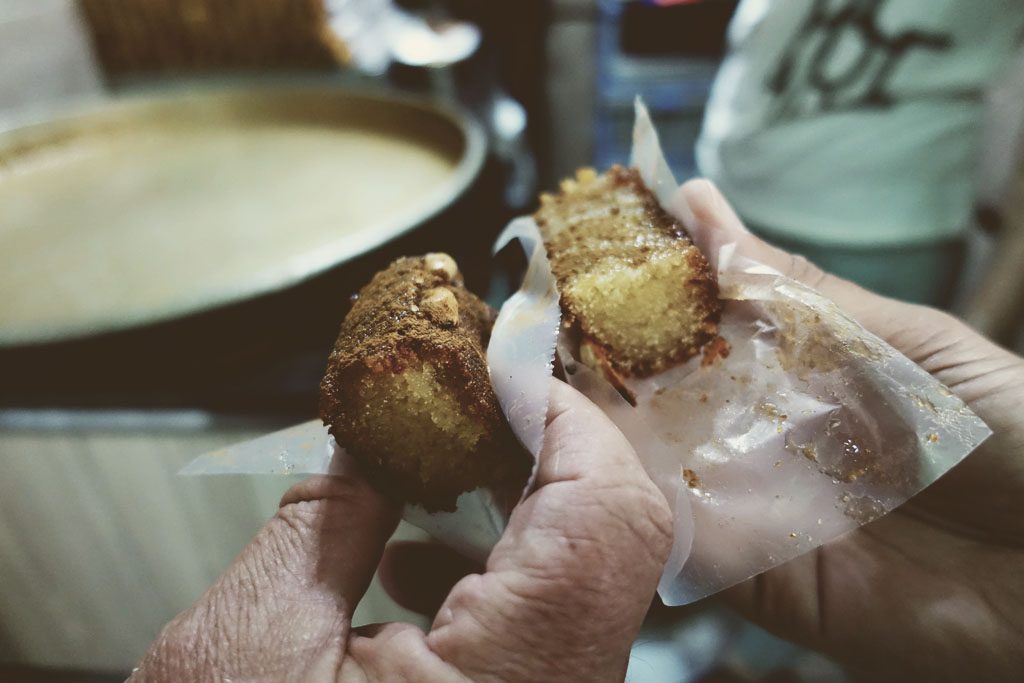 Badem Ezmesi
This pastry is a bit like the Rolls Royce of pastries in Turkey and is handmade with love and the perfect recipe of course. It comes in different flavors my favorite being the one that are covered in Pistachio crumbles and I couldn't find the name. Don't worry it's the green one.
Location: Meshur Elgani Ezmecizade (Kemeraltı Camii Karşısı. Kuyumcular Çarşısı. No:13. P/19 Kemeraltı)
Erhan is the owner and coolest guy who has been the master at his business for over 40 years even delivering his pastries out of his tiny shop around the world. I am having difficulties describing this dish so just go there and try it for yourself :).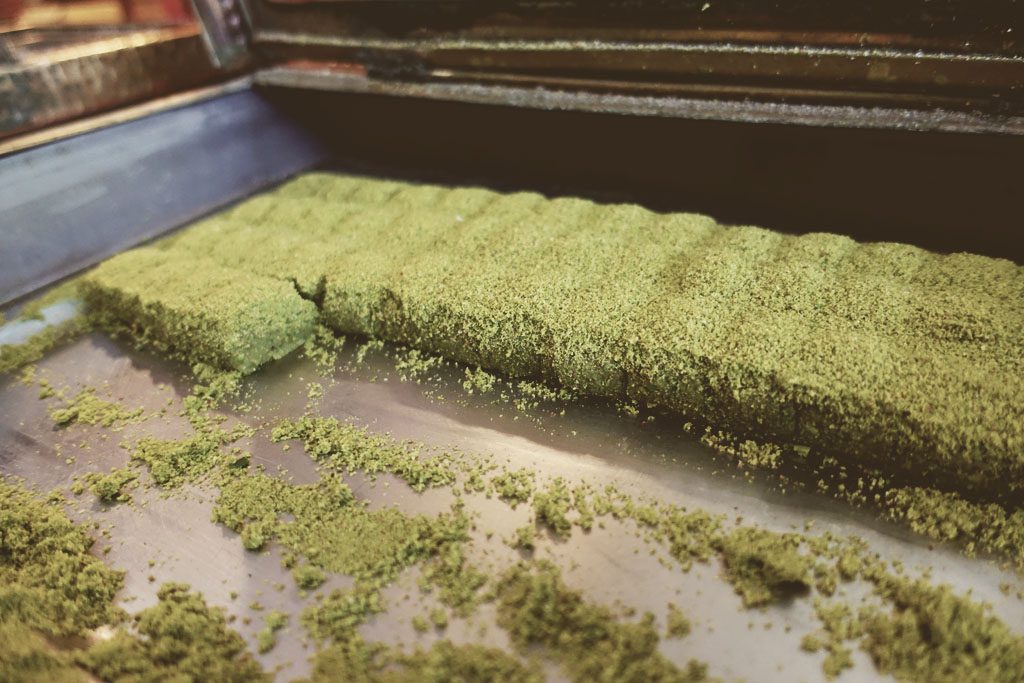 Pickled Vegetables
This is not really a dish but it is worth trying as middle eastern country are very proud of their pickling game. Each country has its one recipes, vegetables and I think it is the perfect 5min stop to each a pickled cucumber and down the pickle juice. Who needs Gaterode?
Location: Meshur Kemeralti Tursucusu Tahsin (Kemeraltı 872 Sk. No: 169/A, Konak/İzmir)
Cool store, good pickling game.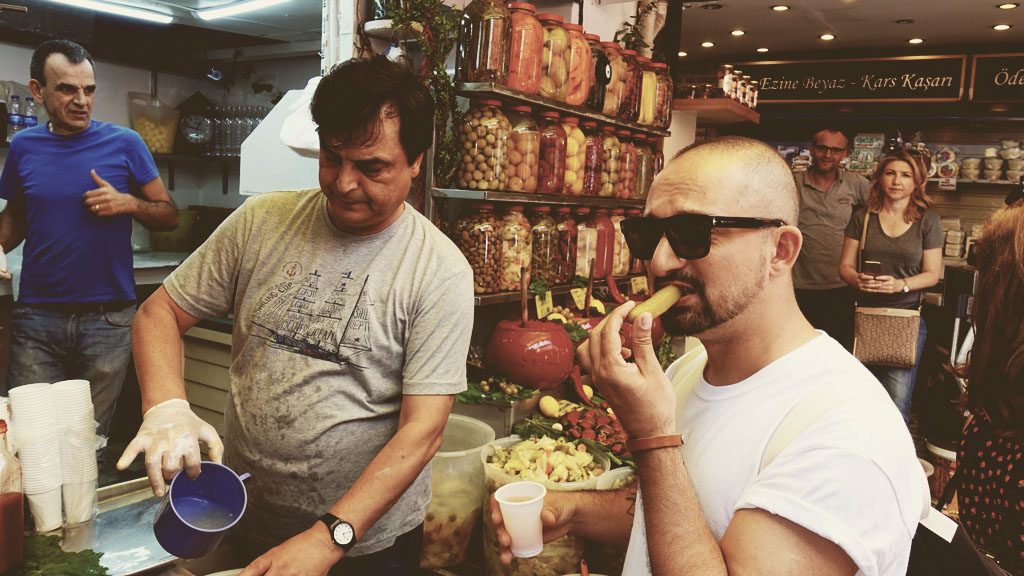 Alright I am done and if you wanna know where to stay so you are close by to all these food spots… I stayed at the Mövenpick Hotel in Izmir.
Just writing this article made my mouth water. Time for lunch.
Foodie Guide Izmir finished.