Where to eat in Luxembourg – Foodie Guide
After a long day of walking, sightseeing or chilling in the hotel room you might be a bit hungry for …. well for a lot of things and that is my specialty. So to make life a lot easier for you I just ate a lot of food at a lot of different places so you can stick to the good restaurant, pubs, bars and diners. Let's get started with "Where to eat in Luxembourg". By the way I am not doing this in any order so just pick your favourites.
Chocolate House (Dessert)
Located across the Grand Ducal Palace you can enjoy the view and a gigantic amount of chocolates, cakes and other sweets. With its outdoor seating and indoor medieval interior design the choice is yours to make. The ground floor reminded me of a fantasy shop in a movie like Harry Potter and is worth to linger for a minute and take a couple of shots of all the mouthwatering sweets. They also have a lunch menu, which is standard with mint lemon sorbet lemonade that stands out and is incredibly delectable.
La Durree (Dessert)
I know it is a French chain but for everyone who love macrons and doesn't live in France this is essential information. To all those addicts: Dig in, order, gorge and take some home. Moments like these are scarce.
Brasserie Siegfried (Lunch, Dinner, Pub)
Huge amounts of food, cold beer and sport events. Yes the Brasserie might not be the most incredible find on my tour through Luxembourg but the combination of friendly staff, good prices and relaxed atmosphere makes this pub a worthy lunch break especially for those who are always hungry. Try the Kniddele or the bouchee a la reine.
Ca(fe)sino (Lunch)
What a lovely restaurant or better setting because the Ca(fe)sino could easily be a movie set with its old restored salon in the Forum d'art contemporain which used to be the Casino Bourgeois. The lunch buffet is not only affordable with 15€ but also it is nicely arranged in enamel pots with handwritten tags for each dish. The buffet arrangement feels like a stylish grandmother cooked food and put it our for her whole family to enjoy, a theory that is supported by the beautiful long table that is the heart of the restaurant/brasserie.
Dishes are created with fresh and seasonal ingredients daily by the head chef and should satisfy the meat lovers and the vegetarians alike.
On weekends you can enjoy a brunch in different variations for 26.50€.
Charles Sandwiches (Foodies – Lunch)
One of my favorite stops on the trip this tiny restaurant serves up my favorite kind of food – the sandwich. Read the full review here.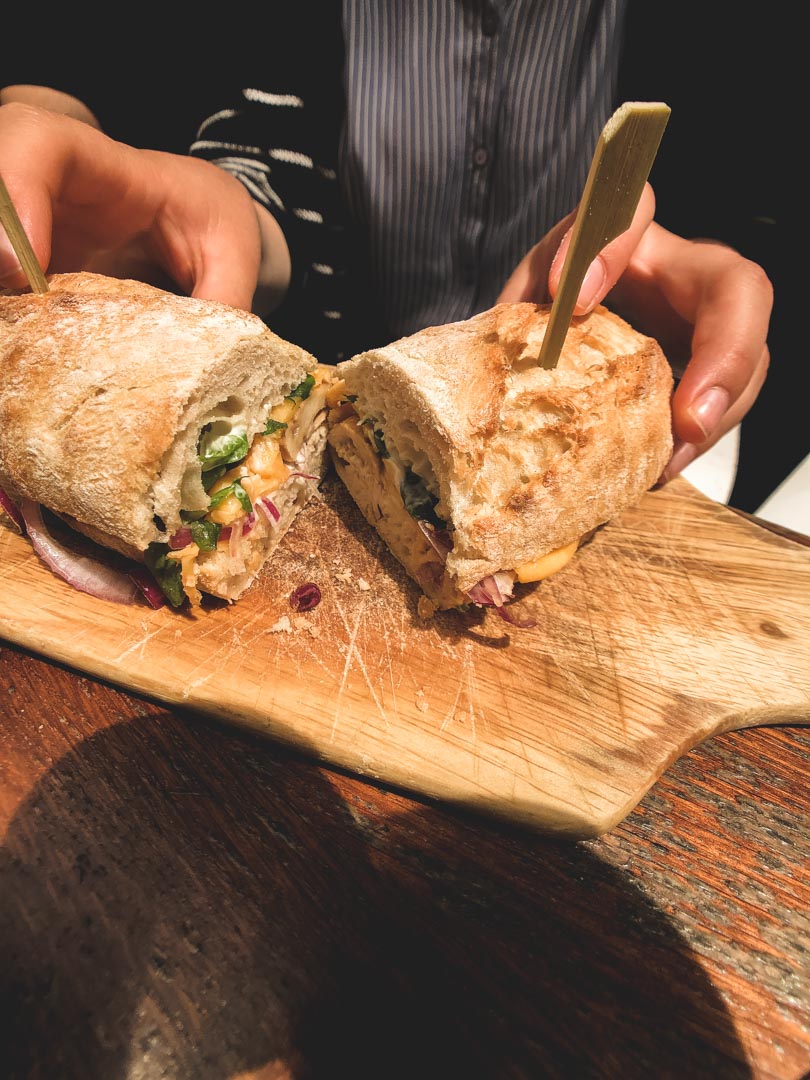 Brasserie Mansfield (Fancy Dinner)
The whole interior has is thought through with dark walls, brass lighting fixtures and grey colored lounge chairs the whole place screams hip. The menu is also a delight and combined with a couple of Gin Tonics you are sure to have a wonderful time. Try the burrata, the scallops and especially the Fois Gras de Canard. If you are a bigger group (approx. 10) you can reserve the huge ass table on the first floor that has one huge ass brass lamp hanging above it.
Namur
Luxembourg has more chocolatiers than almost any other city and Namur ranks at the top of them with its heritage, a tea room and a lot of stories to tell. It might have seen better days and is still coasting on its "oldest something something vibe" but the dessert are still delicious.
"Where to eat in Luxembourg – Foodie Guide" continues…
Snack Ankara (Drunk at night and still hungry)
I don't know if this is the best Doener in the city nor did I care when I was walking home after partying all night during National Day but at that moment it was absolutely delicious, additionally I might have been a bit tipsy so take that into account.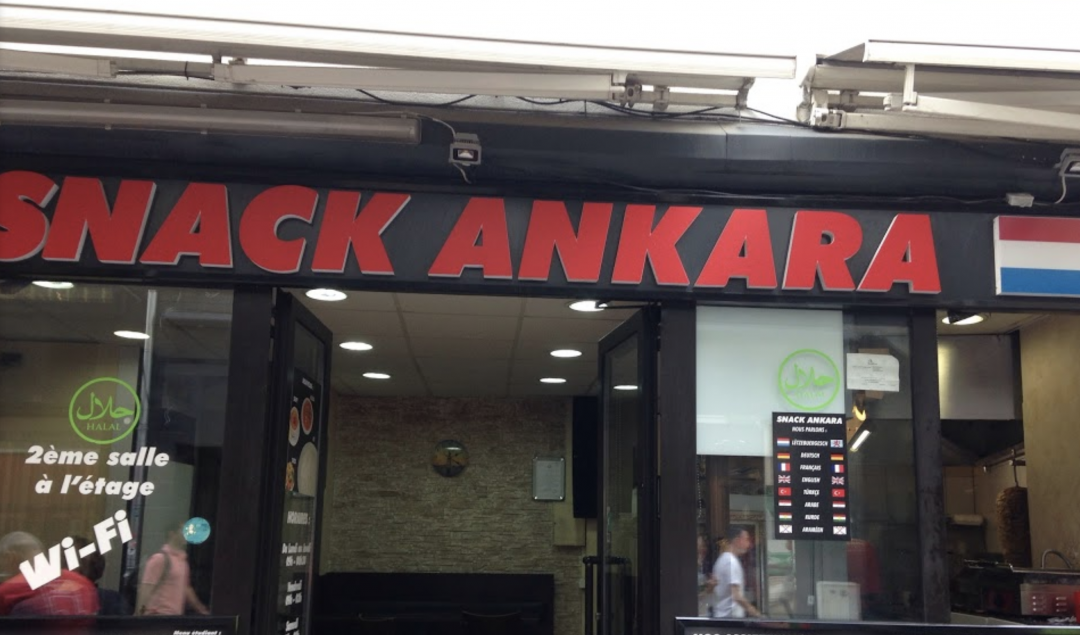 Yamayu Santatsu and Kamakura
I always want to know where the best Japanese restaurants are in any city I visit which mostly because I am obsessed with Japanese food and these two restaurant are at the top of the list with mouth melting sushi, tempuras, sukiyakis and green tea ice cream. Definitely worth you time.

Mosconi
This Michelin starred restaurant (yes Luxembourg has quite a lot of these) is worth taking the time and reserving a table ahead of your visit. The restaurant is situated on the banks of the Alzette River in de heart of the Grund district. The chef creates the most incredible Italian dishes you will taste in Luxembourg with a lighter than air homemade pasta that takes the lead in a varied scrumptious menu.

Even more "Where to eat in Luxembourg – Foodie Guide"
Ilot Gastronomique Food Mall
This new mall located on in a restored old building – the famous Am Turchen (the Turret) houses a Michelin restaurant (Le Bouquet) and a many other restaurants and taverns.
(I don't have a picture so here is one of the beautiful city itself)
Kaempf Kohler (Cheese, Man!)
This place has been around for ages serving the locals and the Duke himself with delectable cheeses, pastries and delicatessen and has delicious macrons. It is a bit overpriced but just spend your money on some cheese and pastries and not a whole lunch menu. Motto: Always know what you need to order!
Cathy Goedert
Created by the Cathy Goedert (you guessed it) this is a new approach to a pastry shop for the hip folks in the city. The chocolate framboise cake is especially delicious and has a very light and airy consistency. Come here for the cake and the coffee if you want to stick to the really good stuff at this place. They do serve lunch too (didn't try it so you are on your own)
Kaale Kaffi
A unique and nostalgic cafe filled to the brim with vintage memorabilia that serves an amazing coffee in an "artistic environment" (catchy description). Their selection of teas and beer is also a reason to stop at this homey hideaway.
Honorary mentions: Just so you know here are a couple of dishes classic for the Luxembourgian cuisine: Cremant, Gin Tonic from Supa Saya (I had to start with booze), bouchee a la reine, feierstengdzalot, kniddele aux lardons/legumes, Judd mat Gaardebounen and Bouneschlupp.
Thanks for reading "Where to eat in Luxembourg" we are happy you found us and would appreciate your support with a follow on instagram (www.instagram.com/vanguardvoyager)