Rock the boat – Ferry from Amsterdam to Newcastle – England
Let's get going already 🙂
Taking a boat, ship, raft or ferry from Amsterdam to Newcastle might not be something you thought a lot about recently but here I am telling you about this cool opportunity. I arrived in Amsterdam in the morning spending some time with a dear friend of mine gorging on delicious Avocado Bowls and tea. Walking along the shore we explored the city looking for hidden nooks and crannies. As it always is with good friends time flew by and soon I got on the Bus at the main train station and it whisked me away to the wharf.
The name of the ferry was Princess Seaways, a gigantic ship with space for cars, bikes and probably a couple of Dinosaurs. The Check-In was fun itself as you are actually leaving the country you have a passport check. Everything went smoothly and soon I opened the door to my cabin for the night. I gotta say I thought it would be a lot smaller but I was wrong: space for a shower, toilet, wardrobe and of course a comfy bed looking out on the ocean. I gotta be honest it's not a full sized window with a balcony but more a porthole like in an Agatha Christie novel.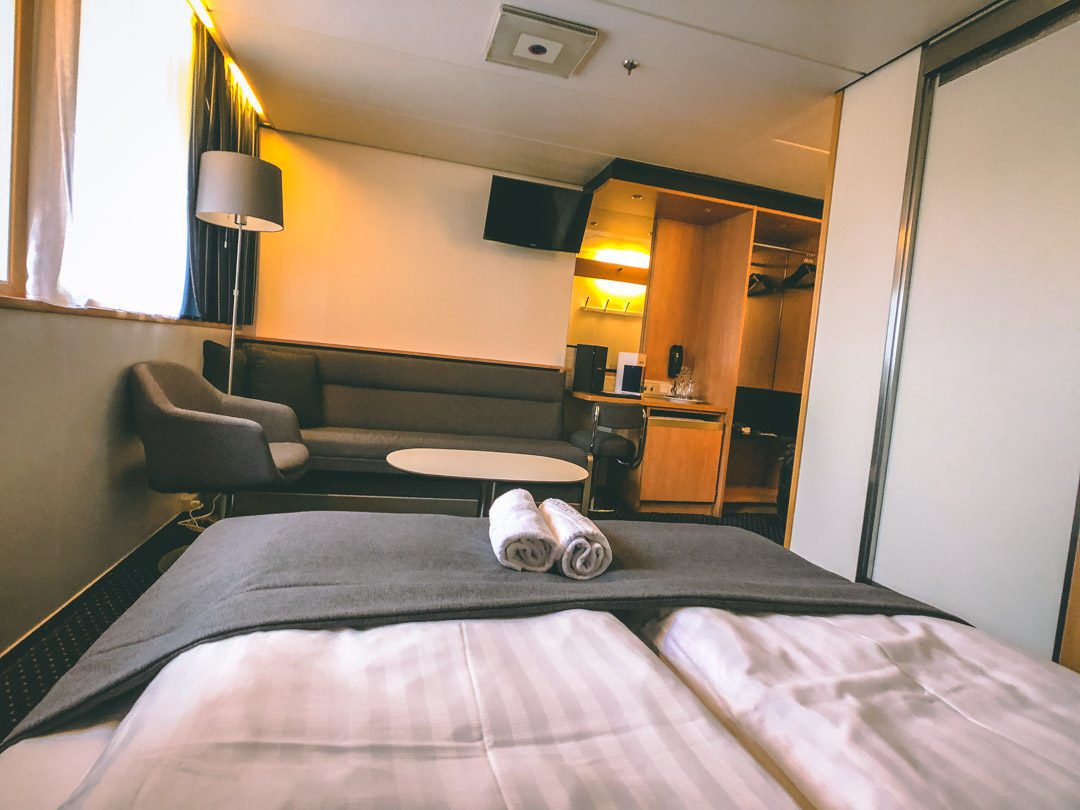 "Ferry from Amsterdam to Newcastle"
The ship owned by DFDS is just one of many opportunities provided by the company to "sail" around the northern shore of Europe and the website is so easy to navigate. Here you can pick and choose your starting point and destination with packages being offered to take your car with you on your road trip…. but back to the story.
Something about the ship
The ship was from my point of view – as I have never been on a cruise before – gigantic. I got lost a lot even though the orientation on board is quite clear. I had a blast just wandering from the outdoor deck on the portside (left) to the starboard (right) and basically getting a feel for all the stuff that the Princess Seaways offered. DFDS obviously wanted me to be entertained so they stacked the ship with a live music club and bar area, a couple of restaurants (ala carte and buffet), children entertainment & cinema. The design of the interior has a vintage touch to it but I gotta say that I thoroughly enjoyed that feeling listening to the very talented woman singing a cover song by Earth, Wind and Fire in a gold sequin 20s dress while her silhouette was reflected on the mirrored ceiling.
"Ferry from Amsterdam to Newcastle"
The rooms are all up to standard with a relatively fast Wi-Fi connection and a clean and minimal layout of the essentials. The night was filled with good music and after a couple of good drinks I swayed back to my room and was gently rocked to sleep by the waves.
Quick side note: For all you travelers with a sensitive stomach, I absolutely recommend either bringing ginger candy, suck on ginger or get ginger drops from the reception area. Even though this was a huge ship you could always feel the slight rocking of the boat. Better start sucking on a candy before you get seasick. 🙂
The day after tomorrow
As the morning sun shined through my window I ventured to the outdoor deck to enjoy the arrival of the ship something you should not miss. Even though it was us just arriving at the wharf it somehow felt grander somehow a little bit like a movie set (don't judge it was my first time on a boat of this size) 🙂
Gathering my stuff I headed out to explore the city of Newcastle and see what hell I could raise in one day. Wanna know what happened next? Click here.
Additional Info:
– Taking a tour to the captain's bridge is possible, just stop by the guest relations counter and ask for it. (Free of charge)
– You will be passing oil rigs on your way so keep an eye out for those beasts
– There is a tiny casino on the ship with roulette, coin slots and black jack – Gamble responsibly or not … 🙂
– When leaving the boat you don't need to rush as the passport control takes a while and otherwise you would be just standing in line for 20-30 minutes.
Read more about my time in Newcastle right here.
"Ferry from Amsterdam to Newcastle"