From Guacamole to pink flamingos – Yucatan's intense beauty and rich history will dazzle you.
I'd like to take you on my adventure trough this beautiful land called Yucatan. In this article you'll read all the destinations I've visited and how I experienced it. Hopefully you'll be inspired as well!
Some nights when I was little and couldn't fall asleep my dad told me to try to think of happy times and happy places. Holbox might have been the place I imagined back then.
Isla Holbox: the island of your dreams
Hammocks and swings (in the sea as well), a beautiful beach, delicious Mexican food and piñata party's all for you to experience. You can expect tranquil vibes all over this island. During the day get hydrated with a fresh coconut, at night enjoy yourself with Sol or Margarita. A little island, but great times.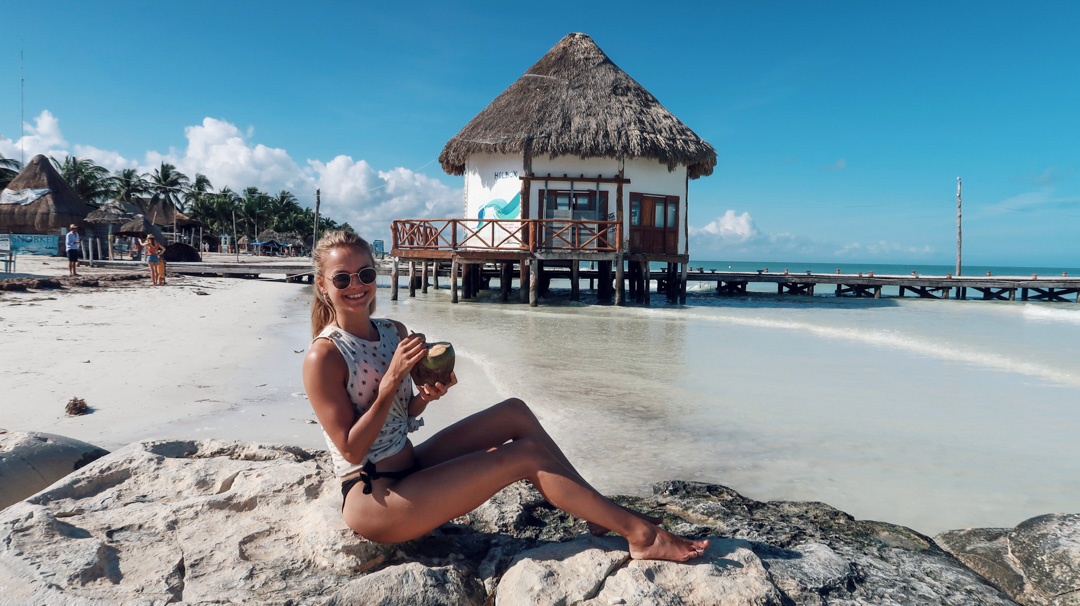 At low tide, you can walk across the sea over a large sandbank to Punta Mosquito. Be sure to get back before 12:00 p.m. otherwise you'll have to swim back home. To get from here to the other side of the island, you can rent a bike. I highly recommend to put on a lot of DEET (insect spray) while visiting this side called Playa Punta Cocos. Be prepared, but do go, because it's just stunning.
Izamal: the yellow town full of culture
Locals buzz around the city with their whole family on scooters, grandmas recipes are still being used in the restaurant Kinich and a big part of the citizens here are still Mayan. This is not an odd thing, because Izamal is one of the most important cities for the Mayan people. They say the son of the god of gods (Itzamna) used to live here.
You don't want to skip this city, although unfortunately, a lot of people do. Every evening, seven days a week, there are events right in the city center. For example a ceremonial dance on Thursday and a traditional Poktapok ball game of the Mayas on Saturday. These events are beloved by locals and tourists. Also a place locals love: La Negrita. Enjoy a cocktail, sip on a cold beer, have a bite to eat and dance the night away. 
Mérida during daytime: get historical at Dzibilchaltún
If you'd like to escape the city during the day, Dzibilchaltún an archeological site is only 30min away from the city of Merida to discover Mayan history. Start out in the museum to learn about their culture and venture forth to discover it by yourself when visiting a Mayan village, walking through ruins like the Temple of the Seven Dolls (so named because of seven small effigies found at the site, on the vernal equinox, the sunrise can be seen right through the temple's doorways) and Cenote Xlakah (natural water hole).
Around the center of the city's ruins, you'll find Cenote Xlakah. It's said that because of the clean drinking water in the cenote, the Mayan choose this location to settle. In this Cenote, just like the one found in Chichén Itzá, a large number of archaeological pieces like carved bones, wooden objects, and mainly vases, have been found. Some say that Xlakah was the first version before building the famous Chichén Itzá.
Rio Lagartos: your daily dose of adventure
Looking for some adventure, nature and beautiful creatures? At Rio Lagartos you're able to book a boat tour to see flamingo's, pelicans and many other bird species. If you are lucky you might spot a crocodile or other reptiles. When the guide asks you if you'd like to "play with the pelicans", you really should unless you're afraid of birds! You'll be amazed by all of nature that surrounds you.
Speaking about the incredible beauty of nature: Las Coloradas – The Pink Lakes.
These lakes are used for salt production. As the water swaps onto the mainland from the oceans it starts to slowly evaporate and thus provide a whole industry with income. The pink color of the lake stems from the red-colored algae and brine shrimp that thrive in the salty and glimmer in the Mexican sun. I'd like to believe it's full of love, so be careful stepping in.
Bacalar: the place to come back to
It's hard to say which city would be my favorite but if I had to choose it'll be Bacalar. With an enchanting lagoon and hidden treasure sites, it's difficult not to fall in love with this place. During your stay, I'd recommend to book a sailing tour at BacalarSailing. They'll take you over the 7 shades of blue lagoon and it's just stunning. It's easy to have a rental car here, so you can discover some hidden treasures at Los Rapidos, Las Cocalitos and Panto Ha.
Tulum: the Mexican Ibiza
Personally, I wouldn't recommend Tulum, unless you're a real big fan of Ibiza. This is what you can expect of the beach side: overpriced parties, overcrowded roads, overpriced parking, overdone celebs, overpriced drinks but underestimated beauty of the shore. Yes it's a beautiful beach, yes the parties look amazing (haven't been, cause it costs around 200 dollars), but it's just not the tranquil beauty of Mexico I was getting used to. The town on the other hand does offer what you'll expect of Mexico. Nice bars, cute restaurants and most importantly it is affordable.
Altogether, the trip was an amazing experience. I've been Mexico-homesick for about a week when I got back. You can't hurry love, but you can hurry to get in Yucatán.
Bon Voyage.
Wanna read more about adventures? How about a desert trip through the lowlands of Iran?