Who doesn't love a good road trip? For everyone who loves to have a diverse trip, we definitely recommend Portugal. You'll enjoy beautiful beaches, green nature, ultimate relaxation, bursting cities, picture perfect places and authentic villages.
With Booking.com you can easily book your rental car to start this road trip from Lisbon to Faro. In this article you'll find the third part of hotel recommendations in the Algarve, in the province Faro. Click here for the hotel recommendations in Lisbon/Setúbal and Beja/Faro.
ASA Algarve Sea Adventures – Luz
Time to continue the journey to the beautiful Algarve! Lagos is a cosy city in the Algarve and next to Lagos you'll find Luz. For a relaxed stay near the beach, you can book your stay at ASA Algarve Sea Adventures. You'll arrive in a chill and cozy atmosphere. It feels like a camp, but here you'll have your own apartment with a shower, bed, living room and kitchen. Again, a lovely couple is running this place. What a life! At ASA you can also sign up for fun activities like yoga, surf lessons and rock climbing…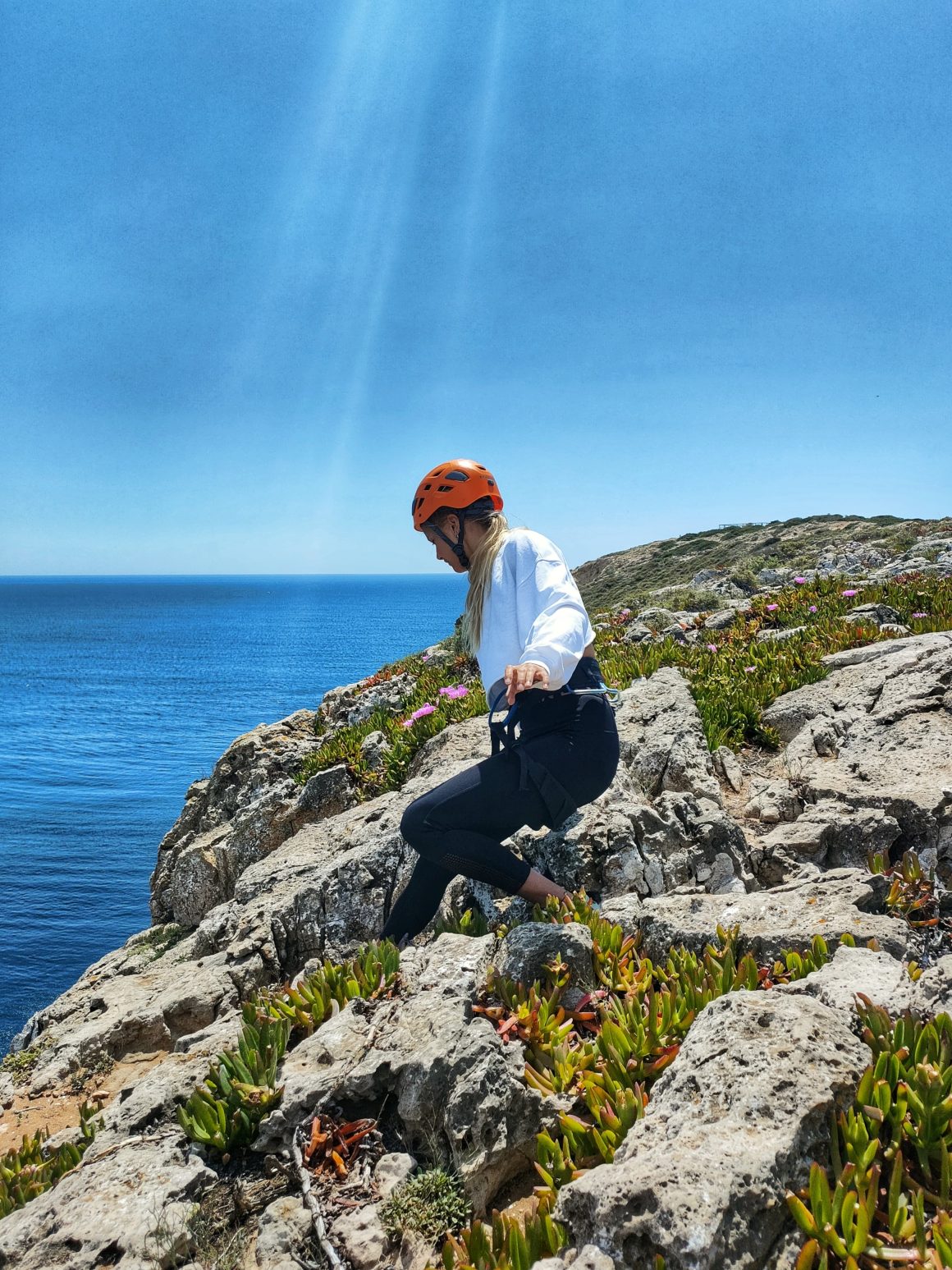 As you can see, the rock climbing is an exciting adventure. You will rappel off a cliff and climb back up using the rocks. An experience for the real thrill seekers. Feeling a bit afraid? No worries, Toto will take care of you. The guidance is very comforting, calm and professional. You will feel safe with the ASA team, even if they tell you to hang back from the cliff.
ASA Algarve Sea Adventures
Funchal, 8600-310
Lagos, Algarve
The Patio Hotel – Albufeira
You wouldn't think that this area is still Albufeira. 20 minutes away from the clubs and bars at 'The Strip' you'll find the Patio Hotel with its tranquil and beautiful surroundings. You can park your car for free in the front of the hotel. After your check-in you can leave the care and join the shuttle to the beach for free. The drive is about 5 minutes, and the beach is way more quiet than the touristic beaches near Albufeira center.
Staying at The Patio Hotel really feels like a holiday. The breakfast gives a great start of your day with four different buffets to choose from. Hot dishes buffet, cold dishes buffet, a pancake and omelet station and a little bakery. At the hotel itself you can enjoy yourself at two different pools; 'North pool' and 'South pool', we find this very funny. And there's a bar to hang out as well with a pool table and more games to have some fun.
The Patio Hotel
Pinhal do Concelho
Praia da Falésia
8200 – 593, Aldeia das Açoteias
Real Marina – Olhão
Olhão is the city right next to Faro. A perfect stop before you catch your plane back home. And of course, you want to enjoy your last days to the fullest. The Real Marina Hotel is the place to be for a couple outstanding last days. The staff, as well as the hotel itself, will make sure you have the time of your life without even leaving the hotel. Expect peace, relaxation, good food and a nice vibe.
You can park your car for free in front of the hotel. And the suite is one of the best we've stayed in. A real catch! It's an open space and practically equipped so you'll have a lot of privacy in the room. The air conditioning is beautifully integrated into the wall and the view of the harbor from the balcony completes the picture.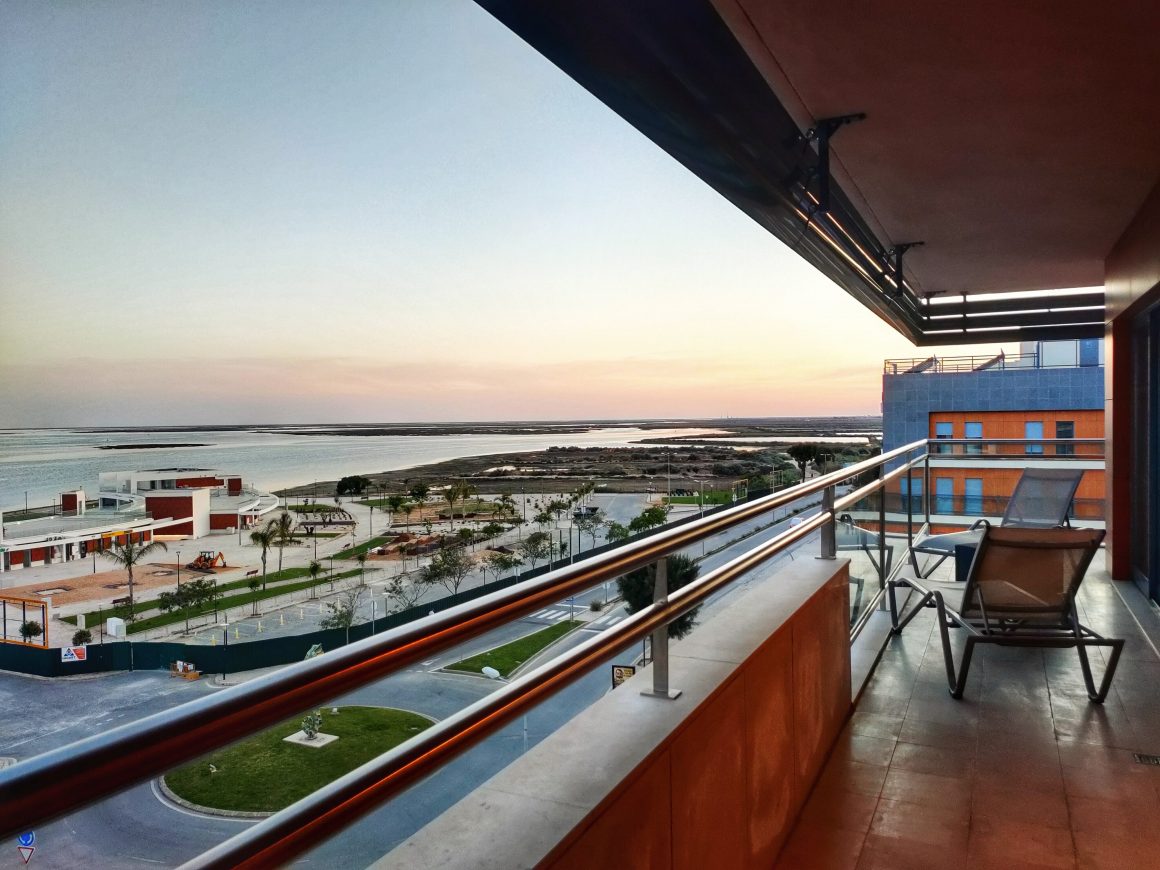 Real Marina Olhão also provides a culinary experience, during breakfast and during dinnertimes. At the breakfast you will find typical Portuguese pasties at the buffet. And of course, the common breakfast products as eggs, bread, yogurts and more. But even more important: the coffee is fantastic.
During dinner time, you can take a seat at the top in-house restaurant, for an extensive dinner and various wine list. The menu gives a twist to every meal you thought you knew in Portugal. The starter of salmon with asparagus is a fresh pleasant surprise, and the traditional Cataplana is served with fresh seafood and normal potatoes instead of the sweet potatoes.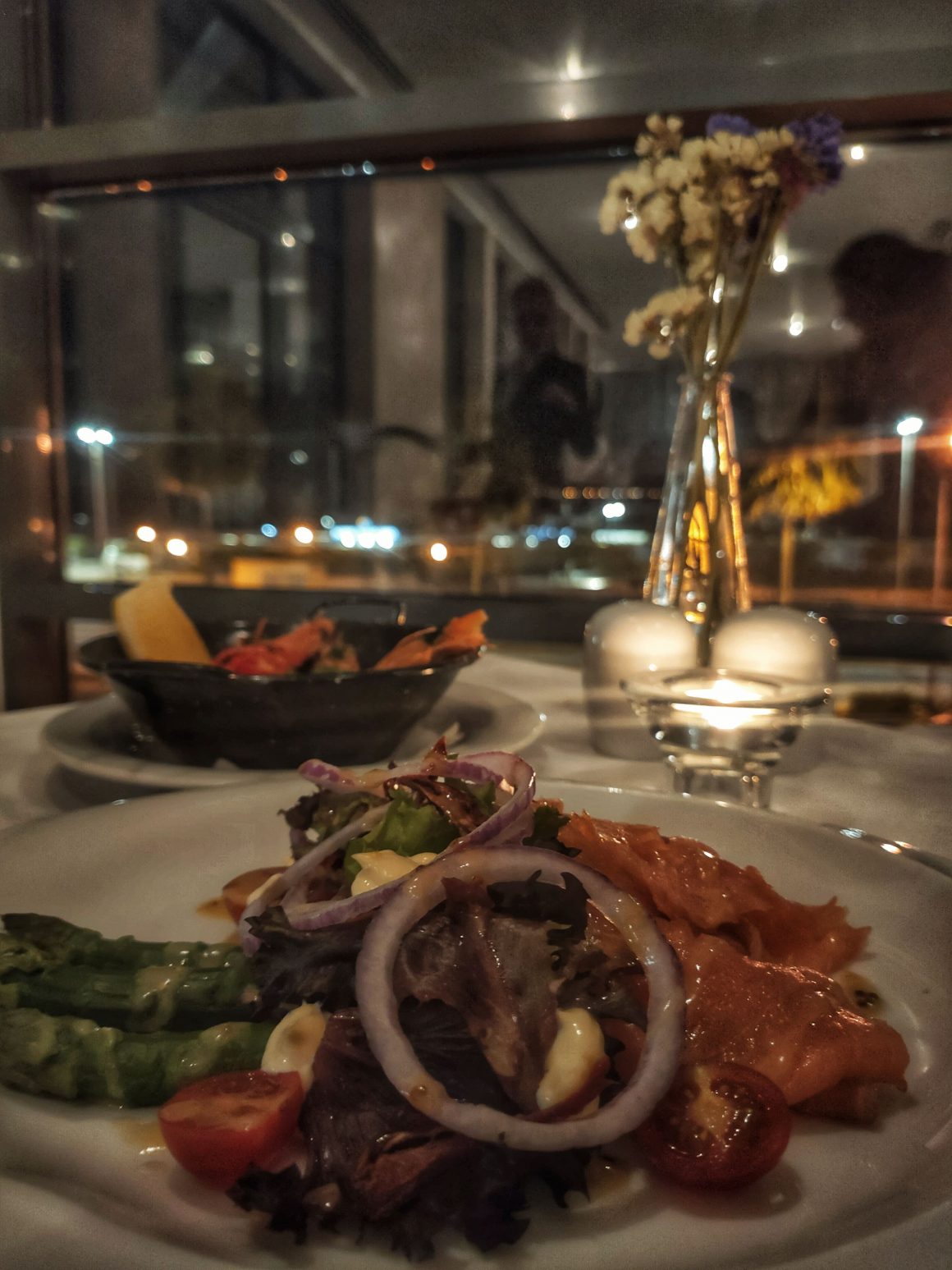 After dinner you can enjoy a dessert if you still have some space left and relax with a cup of coffee or tea. Take as long as you want, because your bed will be just a couple steps away.
Real Marina Olhão
Av. 5 de Outubro
8700-307 Olhão