Sky High and Down Below / Sofitel Bangkok
The Sofitel Bangkok a hotel that screams hip and fashionable is located close to Lumpini Park the largest green area in the city and skyrockets into the air overlooking the city and give each guests the opportunity to take a couple of amazing shots above Bangkok. From top to bottom designed by Christian Lacroix it radiates lavishness with just a touch of ludicrous and with a couple of weirder locations like the clock wall, the random deer next to a pool of water or the chess floor you have a lot of spaces to explore without even leaving the hotel.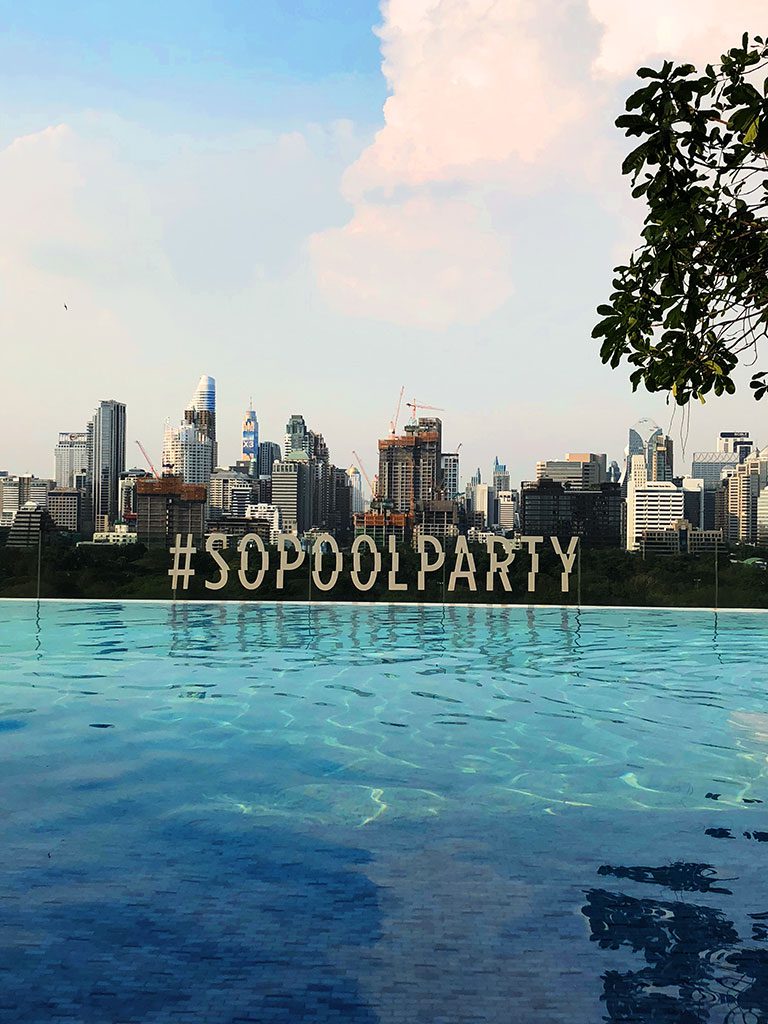 The Sofitel Bangkok is stacked to the rooftop with bars and restaurants, starting at the top with the Hi So Rooftop Bar for drinks and a great view, next we have the Red Oven which has the largest Montini Oven in Southeast Asia in the center of the restaurant then there is the Park Society Restaurant serving Thai Fusion food with a view of the greenery outside and the Park Society Terrace which looked beautiful but unfortunately there is so much happening in the hotel I didn't even get the chance to have a pre dinner cocktail there. Lots to do and not enough time!
The beds are soft, the rooms are big, the windows are huge and the shower has a rainforest feel to it. All in all there is literally nothing to complain so lets just move on…. as you
… open the door and walk to the elevator and ride it up to the 10th floor where the doors open to an infinity pool that is movie worthy with lounge chairs all around. Time to relax, jump in, take pictures or order drinks all at the same time.
Lastly you need to check out the immense and intense breakfast buffet playing all the tunes you desire.
This is a worthy place for everyone who loves the quirky, the fashionable, the cool, the immense and intense.
Sky is indeed the limit.
Bangkok Voyage
So Sofitel Bangkok
2 N Sathon Rd, Khwaeng Bang Rak,
Khet Bang Rak, Krung Thep Maha Nakhon 10500, Thailand