Get your taste buds ready for the best Thai Restaurant in Vienna – All Reis
The wonderful people that have been providing Vienna with delectable imports from Thailand and all over Asia in their supermarket Thalad Thai Shop (Schweglerstrasse 19, 1150 Vienna) opened up their first restaurant across the street and are now delivering tasty dishes to the hungry crowds at the best Thai Restaurant in Vienna.
The restaurant is named All Reis which is a mixture of the word ALL and the German word for rice….so All Rise! for this funny idea.
The interior is minimalistic with massive wooden tables, rattan lamps and a view of the open kitchen. All in all a very laidback feel to the whole place.
As always I was late to the restaurant and of course all tables were packed with happy customers and as you cannot reserve a table I was offered a tiny spot right at the counter in front of the kitchen. Even though I was sitting on a turned over beer crate topped with a bag of rice, this tiny area, which has space for 2 guests became my favorite spot instantly.
Let's get to the grub: Food (The best Thai Restaurant in Vienna)
So I gotta say this might be the best Thai food I had outside of Thailand which is a lot to say. The menu of All Reis is wonderfully balanced and there is no wrong choice from my point of view. I know I haven't tried everything so here are my favorites.
The noodle soups Thai Pho and especially the Guay Tieaw Muu is thick and tasty and the mixture of Rice (mine)/Egg/Vermicelli Noodles water spinach and soy sprouts is excellent, but if you are not squeamish the best soup by far is the Guay Tieaw Nua Pueay Nam Tok (a fricking long name) which combines cooked pigs blood in the broth with braised beef. A revelation!
Of course I had to try the Papaya Salad Som Tam Thai, crunchy and spicy in all the lovely ways of Thai cuisine and comes as it should always be with dried shrimps. From there I moved on to another classic the Pad Thai that convinces with the Gui Chai leaves and the perfect amount of peanuts. The portion is also enormous.
Food Part 2 (Best Thai Restaurant in Vienna)
Finally before I got to my favorite dish of that heat-induced evening I chowed down some home made spring rolls that are crunchy, fluffy and unusually long (I don't know why that's important but here it is).
The piece de resistance was in my opinion the extremely flavorful and crunchy pig belly with cowpeas and Thai basil – Ka Prao Moo Krob. Additionally you should order the sticky rice (just order it and don't ask…it is necessary).
Order a Thai beer to sooth the sweat pain of this deliciously spicy cuisine, which makes me yearn for my next trip to Thailand.
"All Reis – The Best Thai Restaurant in Vienna"
No reservations taken in the best Thai Restaurant in Vienna – All Reis – first come first serve.
Ps: Do all the hungry people standing in line waiting for a table a huge favor: Don't linger around after you finished your meal. Hit a bar for your chill out time, this concept is well known around the world but hasn't reached all Viennese people…. Sit, Order, Eat, Leave. This is especially important at restaurants that take no reservations, are extremely small and are packed all night long. This might help you too next time you stand in line hungry and excited. Just a thought.
All Reis Bangkok Street Food
Schweglerstrasse 12
1150 Vienna, Austria
Mon-Sat 11AM-10PM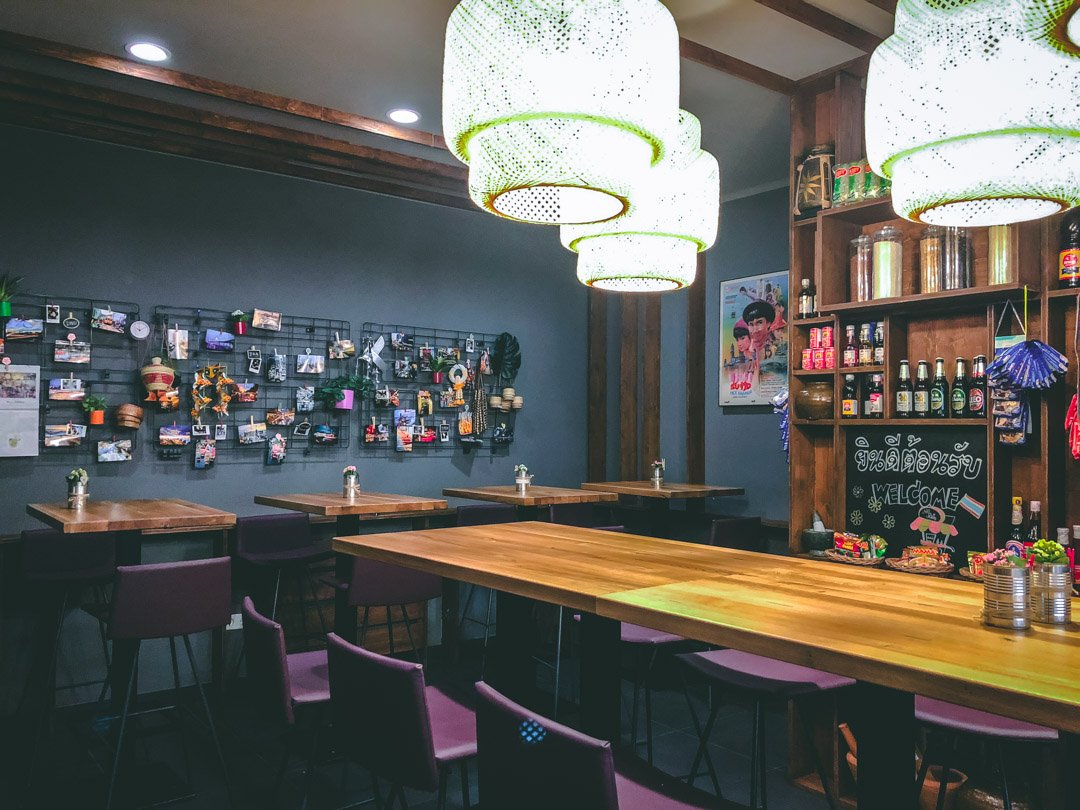 All Reis – The Best Thai Restaurant in Vienna