The real Buddhist party – Bun Pha Wet
A sight to be seen! This fair/parade that celebrated its 20th anniversary is the main reason to come to Roi-Et. The festival that takes place in the 4th lunar month (March) retells the Jakata Tales and the life of Buddha in all its glory. As the people come together to celebrate during Bun Pha Wet with a parade, shows that tell the 13 chapters of the Great Birth Sermon, the offering of rice and food to the monks and as much free Khao Poon (Noodle Soup) as your heart desires.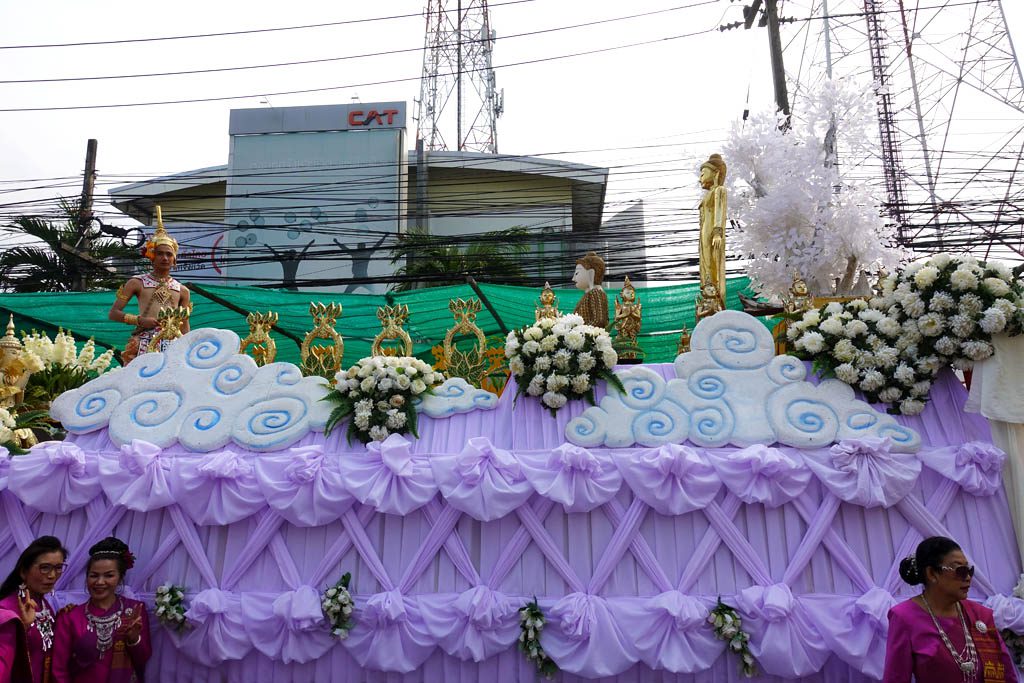 The word Pha Wet originated from the name of the last reincarnation of the Lord Buddha before his Prince Siddharta. For everyone participating in this ceremony it opens the doorway to be reincarnated into the land of eternal happiness.
Stepping out of the legendary stories and into reality the sight of the colorful parade wagons is mesmerizing with men and women dressed in beautiful garments and headpieces representing parts of their legendary stories. The happiness and cheerfulness is intoxicating with 1000 flowers, candle sticks and joss sticks decorating the area where you get the chance to learn about the northeastern style of merit making, the "armsgiving" to the monks (in the morning after the parade you bring food for the monks for a better together and to pay respect). The sheer amount of work that goes into the creation of this day is flabbergasting for a town like Roi-Et.
The best way is to arrive with a car or taxi from the airport, check in into one of the standard inexpensive hotels (like Rice Hotel) and head straight for the Fair to enjoy the culture, the procession, the food and especially the joy, love and laughter.
A memory that will stay with you for a long time.
More stories about Thailand
Bon Voyage