Things you need on a flight
When it comes to traveling, I always try to take with me as little as possible (or at least that's what I think before packing – then I end up putting in things "in case of this or that happens", like an alien attack..).
Anyway, what I also like to plan is how I will spend my time on the train or plane. It always feels like a magical moment – leaving your hometown for a new adventure, new experiences, new people. I compiled a list with the top essential accessories to bring on a plane (or train) with you. Let's get started!
All articles have been bought and tested by me or my friends and are personal recommendations. If you like it I would appreciate you buying the products using the links provided so we make a buck or two (still no ads on our page). We appreciate the support and hope you like your new equipment.
iPad/e-reader: I cannot even think of going on a plane without my tablet. However, it all depends on what you have on it that makes it indispensable. The app "Kindle" allows you to read on your tablet and smartphone books you downloaded on Amazon. Another essential app I need is Spotify (I download a couple of playlists first – although some airlines are starting to offer Wi-Fi too) and Pocket (where I save some blog or newspaper articles to read them offline during my journey). What app do you use when you travel?
2. Headphones: having a good background soundtrack while you dream on the plane is always good. So ear- or headphones need to be always with me when I travel. I recently tried the Bose QuietComfort 25, a.k.a. the traveler headphones, and I was quite impressed. The sound quality is insane and the cool thing is that they also cancel acoustic noise, so they are also good to fall asleep. Another pair of headphones that I would recommend is this: Sony MDR-100 – quality/price ratio is incredible!
4. Travel pillow – I have to admit it – there's a love and hate relationship between me and travel pillows, since most of them don't work! But when I find the right one…I fell in love with it at first nap. Stay away from those available at the airport, I have had only bad experiences so far.
I liked: Jerrybox – it shape keeps your head stable !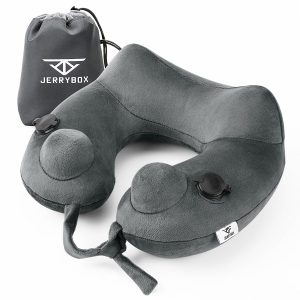 5. Organizer – you might wonder what an organizer actually is (sorry guys, I don't know exactly how it's called..). It's like an iPad cover, but a little larger and with lots of pockets inside, where you can put your passport, money, credit card, cables, tablet, notebook…it is very practical as it keeps the essential documents and small things you'll need for sure during your travel. I got this one as a present, Knomo  – thumbs up!
6. Backup battery – Especially for long travels, I always have my powerbank since I don't want to land with 20% battery – it sucks! So I bought this guy here, ultra light, small, and powerful with 2 full charges (iPhone 7). Plus, it is also useful if you plan to backpack, as you won't have access to electricity for hours (or days in some cases) and this could become your best friend!
7. Games/apps – sometimes you just need to switch off your brain, or get distracted (especially if the baby behind your seat keeps crying), so a cool app could come in handy. I personally love Monument Valley – probably the best app game ever. Otherwise, I also like Kami 2 and Anodia (never gets old). What do you play when you fly?
8. Airplane socks – this one is a gem for those travelers who have blood circulation problems. I never tried them to be honest, but my mother always carries them with her when she flies (actually when she goes jogging and running as well), and she is really satisfied!
9. Weekender / Carry on bag – Don't underestimate the importance of a good weekender or carry on bag. It has to be practical and efficient in stressful times (like the security check, or while you get on the plane and you need to be as quick as possible sticking your bag in the overhead locker otherwise the people behind start pushing and yelling at you), but also comfortable when you're walking in the city or within the airport, and, why not, it should look good too. A couple of months back, I bought the weekender from Fresion that not only meets all the above mentioned criteria, but is also affordable!
10. Airhook – What I always hate about planes is the seat space – it's never enough! It's a war everytime and I have to find the best compromise between having the table open that pushes on my knees and leaving it closed but not having space for the tablet, phone, and notebook. That's a real problem guys! So I found this gadget online, named Airhook, that holds your tablet and beverage stable without pulling down the seat table (have a look at it here -> https://theairhook.com/). So far it's the best compromise I found to solve this eternal problem.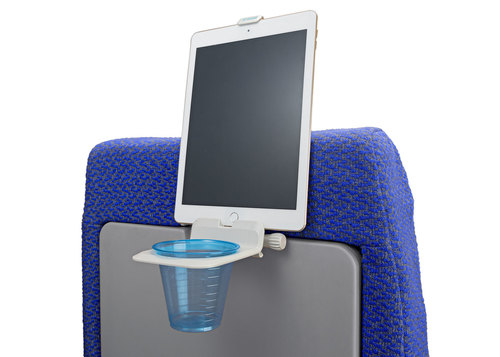 I hope you liked all these links. Let us know on instagram if you want a part 2.
And don't forget to follow us on Instagram for daily photos 😉